Raspberry Pi 4 B released on 24 June 2019 and became an instant hit. The new Raspberry Pi 4 B is the latest version of the small single series board computers developed and produced by the Raspberry Pi foundation.
Raspberry Pi Zero, the first version of the Raspberry Pi series was introduced by the UK based organization in 2015. It was later followed by the immensely successful series of Raspberry Pi computers including the latest version, Raspberry Pi 4 B.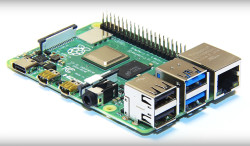 Raspberry Pi computers are some of the most popular devices among electrical engineers around the world. Therefore, the new Raspberry Pi 4 B is, maybe, their favourite 'Pie'!
Thus, we believe, we should mention the top 5 reasons that make Raspberry Pi 4 B the best Pi.
1. More power
Raspberry Pi 4 B comes with mighty four Cortex-A72 CPU cores to boost performance and make the device more powerful and robust. Which, in comparison to the previous four Cortex-A53 cores, is a big leap. Hence, it is the most powerful device in the Raspberry Pi series yet.

2. 4K Output
It would be fair to say that anything not providing a 4K video output in 2019 should not provide video output at all. Especially not a computer. In this HD era, a 4K video is expected by all of us. Also, by the diligent electrical engineers working hard for profound innovations that change the world!

3. Having a choice is important
While we are discussing the needs of the modern times, how about having a choice? Nowadays having an option has become somewhat a necessity. Hence, it is only fair that we should have an option to choose when it comes to buying a Raspberry Pi computer too. In short, the new Pi from Raspberry Pi foundation comes in 1GB, 2GB, and 4GB variants to choose from.
4. Fast data transfer with USB
By the way, remember waiting for years to transfer small files? Okay, maybe not years but it sure felt like that! But now is the time to get things done fast. Hence, the two USB-3 ports along with two USB-2 ports makes the Raspberry Pi 4 very efficient and desirable.
5. Gigabit Ethernet & Bluetooth 5
Lastly, the inclusion of a Gigabit Ethernet and an upgrade to Bluetooth 5 definitely makes the fresh Pi special. In addition to Gigabit Ethernet, onboard wireless networking and Bluetooth 5 helps in faster networking.
In summary, the latest addition to the Raspberry Pi family is a pleasant treat to the electronic engineers' community and the sweetest Pi from the Raspberry Pi foundation so far! Please let us know your thoughts by posting comments below.
Click
here to read the review
for the new Raspberry Pi 4 B.
Visit our store or just click
here to get your Raspberry Pi 4 B
!