Electronics, programming, making, open source, they invariably get so much better when you add LEDs. And since it's the season of celebratory lighting here are some hands-on light projects.
Wearables
The GPS-controlled LED-enhanced jacket is one of the projects of
Adafruit
's wearables creators
Becky Stern
and Tyler Cooper. The jacket's LEDs light up when its wearer reaches predefined coordinates. You can LED improve your jacket with the
Flora GPS jacket kit
from Adafruit.
3D music visualizations
The L3D Cube displays light patterns in response to music or self-created ones. You can play with the cube out of the box or get your hands dirty
writing code for it
. Home made visualizations and apps can be shared in the L3D Cube gallery. The
L3D Cube presale is now running on Kickstarter
and it'll probably have a life beyond the crowdfunding round because the $38,000 goal has been met 5 times over.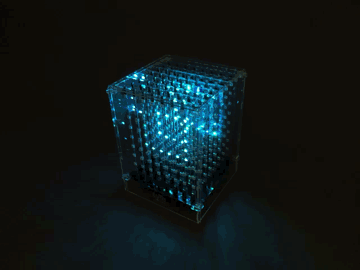 Circuit Stickers
Another light project with a successful
crowdfunding campaign is Circuit Stickers
. With conductive tape and LED & sensor stickers you can easily enhance any sticker-friendly surface with electronic circuits. For more advanced circuitry creation there are microcontrollers and a breakout boards available. After the successful crowdfunding campaign,
Circuit Stickers are now permanently avaliable on CrowdSupply
.
Image: L3D Cube.