A portable, affordable and cool looking pocket-sized hydrogen fuel cell that delivers 1.5 to 2W of continuous power... what more do you want? This pocket-sized fuel cell for personal usage called 'Minipak' was created by US based company
Horizon Fuel Cell Technologies
. The MiniPak was designed to power and recharge your everyday smaller appliances such as phones and personal media devices.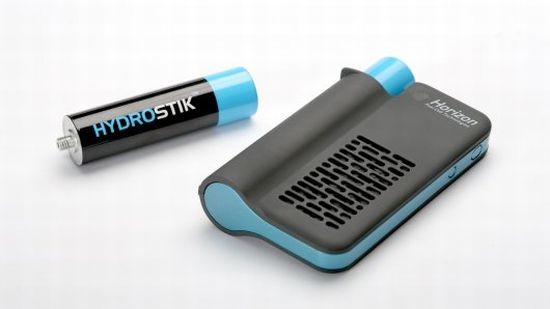 The Horizon MiniPak delivers 1.5 to 2W of continuous power through an integrated micro-USB port and comes with a converter so it will fit almost all devices on the market. The replaceable fuel cartridges (HydroStiks) deliver up to 12Wh of energy. The MiniPak ($100) is able to store hydrogen safely as a dry,
non-toxic and non-pressurized material
. But that's not all, Horizon turned the MiniPak into a true gadget by simultaneously launching several add-ons. You can turn the MiniPak into a sustainable fan or flashlight in a matter of seconds.
#EcoMonday
is Tech the Future's weekly eco-tip. We believe contributing to a better future shouldn't be too difficult. Small changes in our habits potentially have huge effects on our future. If we all make our own toothpaste for instance, we could save 897,600,000 kilo's of plastic a year. #EcoMonday is also our means of spreading 
Twitter
love. By adding '#' before EcoMonday, we (and you) are able to share our tips with the rest of the World. If you have an #EcoMonday tip to share, post it on Twitter today!
Via
Gizmag