Where do these two meet? How could one be used to promote the other? Industrial designer
Andre Federico Look
believes motor sports are an excellent medium to promote new innovative technology. His answer to the questions above is called the AER concept.
This bike was designed to compete with conventional racing bikes. The frame is built around four electro motors and their batteries are placed in a compact mass-centralised unit.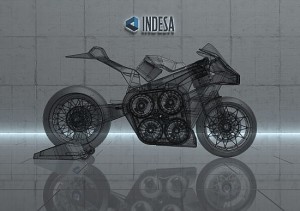 Obviously it will be a great technological challenge to build concepts like these and actually make them perform in a conventional race. However, the first big manufacturer being able to do so will have a very nice marketing advantage. Returning to the second question above, I believe that racing with clean machines will also promote motor sports as being more responsible and socially acceptable. On the other hand, if the racing industry picks up these ideas it will also mean green technology will evolve much quicker.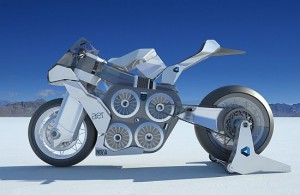 Lets hope the industry takes this development towards sustainability serious so these wonderful concepts won't just be the work of a few design and engineering pioneers like Andre Look. Personally I hope they do not just for the sake of the environment, I admit, I really want to drive one!