We Europeans have been doing it for a while now. Observing earth and our climate changes from space. But the
European Space Agency
(I love this name by the way, sounds like a bad sci-fi movie) is about to get some serious competition:
NASA
.
According to
NPR
the
Obama administration
found some extra cash to spend. $2.4 billion (€1.78 billion) to be exact. This money will be used by the NASA to start a space observation program that will run for at least five years.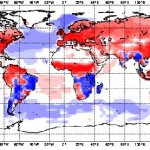 Edward Weiler, associate administrator of
NASA's Science Mission Directorate,
is happy with Obama's decision. "This administration has a clear priority for science in general and Earth science in specific. We've got to measure how fast the ice is being depleted, how fast carbon dioxide is being added to the atmosphere as opposed to being taken out of it." The next decades space observation will be high on the government agenda. NASA will collect data on the condition of our atmosphere and the ocean. Together with ESA data, the NASA hopes to get a close look at the condition of planet.
ESA results look promising with in-depth information on carbon dioxide sources and sinks, global methane and nitrogen dioxide, two of the World's most important greenhouse gases and a significant pollutant gas.