A new process for storing and generating hydrogen to run fuel cells in cars has been invented by chemical engineers at
Purdue University
.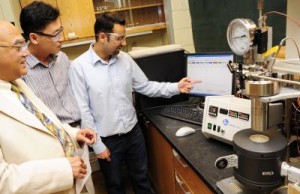 The process, given the name hydrothermolysis, uses a powdered chemical called ammonia borane, which has one of the highest hydrogen contents of all solid materials. "This is the first process to provide exceptionally high hydrogen yield values at near the fuel-cell operating temperatures without using a catalyst, making it promising for hydrogen-powered vehicles," Arvind Varma, R. Professor of Chemical Engineering said. "We have a proof of concept."
The new process combines hydrolysis and thermolysis, two hydrogen-generating processes that are not practical by themselves for vehicle applications. Ammonia borane contains 19.6 percent hydrogen, a high weight percentage that means a relatively small quantity and volume of the material are needed to store large amounts of hydrogen, Varma said. "The key is how to efficiently release the hydrogen from this compound, and that is what we have discovered," he said.
Future work on hydrothermolysis will explore scaling up the reactor to the size required for a vehicle to drive 350 miles before refueling. Additional research also is needed to develop recycling technologies for turning waste residues produced in the process back into ammonia borane.
The technology may also be used to produce hydrogen for fuel cells to recharge batteries in portable electronics, such as notebook computers, cell phones, personal digital assistants, digital cameras, handheld medical diagnostic devices and defibrillators.
"The recycling isn't important for small-scale applications, such as portable electronics, but is needed before the process becomes practical for cars," Varma said.
Read more at
Eurekalert