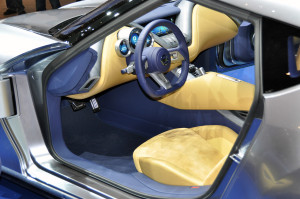 Nissan has won the title car of the year 2011 for their electric car Leaf and now they take electric mobility a step further by introducing the Esflow, a fully electric sports car which proves once more that clean driving and great performance can go hand in hand.
The Esflow does naught to one hundred (km/h) in less then five seconds and has an action radius of 240 kilometres. Nissan has build this car from a blanc paper and therefore had the freedom to design a car optimised for electric motors. The idea was to build a pure sports car which left the driver without a guilty conscience. Therefore they decided to use an electric drive, which originated in the cute Leaf.
To give the car good driveability, the weight and
distribution thereof was of main importance. That is why Nissan chose to use lightweight materials like aluminium. The car has two electric motors, each drives one of the rear wheels. This way, torque can be managed and handling of the car becomes better. Also it allows for better power regeneration.
All in all this car will probably be the first to join the well known Tesla Roadster in the land of electric performance cars and just maybe it will even take over the throne of coolest electric car commercially available.