for a spin and was surprised by its comfort. Hope I'm not hurting anyones feelings, but it felt just like riding a Harley.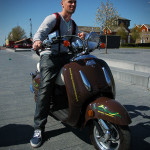 Quality is their main selling point. All scooters come with a two year warranty, unique in this business. And you can actually feel the quality driving the Ebretti Electric. I've driven many scooters in my life, but sitting on the Ebretti felt like sitting on a sofa. It accelerates fast and powerfull and handles great for its size. Even sharp turns are no problem for the Ebretti. But you can see and feel that the scooter is made for a more relaxed style of driving.
One thing I noticed was the 'oldskool' dashboard. The Ebretti is a fun mix of future technology and classic design. Even though it runs on batteries, the remaining energy is communicated with a classical fuel gauge. Maybe scooter companies are still looking for a new form to match the modern technology.
The Ebretti comes in two models, a 45 km/h and a 25 km/h version. The scooter has a action radius of 50 to 80 kilometers depending on your style of driving. It recharges in a matter of hours. For all you trendy peeps out there; the Ebretti comes in 18 different colours and you have a choice between 12 different sadle styles.