Smart phones famously have more computing power than was available to NASA when it put a man on the moon. High time to muster that power and add a fly function to your phone.
Why send your phone up in the air, you ask? Well, because you can.
So. Now that you're convinced that this is what you need, there are several ways to make it happen. Here are some options with varying degrees of DIY.
PhoneDrone
The recently launched
PhoneDrone
is a slick looking quadrotor platform with a dock for the smartphone. The drone can fly in autonomous mode or tethered to a second smart phone for remote control and is currently available for pre-order on Kickstarter. PhoneDrone is the brainchild of xCraft the Indiana-based company that completed a successful crowdfunding campaign last year for another drone: the
X PlusOne
.
The early bird $259 PhoneDrone package works right out of the box. If you want to be more involved in the actual creation of the drone, there's a $99 assembly kit which includes 3D printer files, electronics and the PhoneDrone app.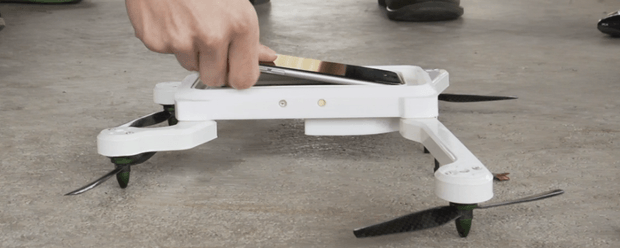 Image source:
xCraft
Flone: The Flying Phone
If assembly is still too meh for you, there is
Flone: The Flying Phone
, created by the Aera cooperative, a group of people who explore the crossover between art and technology. They've published a
How To on building a Flone of your own
under the Creative Commons BY-SA license for the hardware and the GPL3 license for the software. In other words, it's designed to be hacked.
Image source:
Laboral Centro de Arte
Speaking of use cases, the makers of Flone emphasize the use of drones as a means of empowerment through technology. A prototype of the Flone 2.5 was deployed
to film the eviction
of the social center La Carbonería in Barcelona to document police behavior in the event of excessive force. Unfortunately, before it could do much recording, the Flone was confiscated by the police and labeled an 'advanced device for misinformation' (avanzado dispositivo de contrainformación).
A third option for making your phone fly is the autonomous drone created by someone named Prubeš. They've published a
How To
under CC-license as well over at Instructables.
These are some of the options to dronify your smartphone and once this phenomenon gains some traction, I propose we start looking for an alternative name. Or do we wait until we can send them into orbit before acknowledging 'smartphone' is rather a misnomer for these increasingly versatile devices?
Images top: left
Flone
, right
PhoneDrone
.