The Artemis is yet another great looking green concept car, designed by
Niels van Roij
. It uses hydrogen as fuel and has a body made out of high-tech plastics. Furthermore, the design is as clean as the engine.
that utilize hydrogen as fuel. This leads to nothing more than water leaving the exhaust. The fuel cells produce electricity that powers four electro motors located in the wheels. Where normal cars carry their engine, the Artemis has a spoiler system to create down force for better road holding and cooling.
The design is based on the female curvatures of
TVR sports cars
. By using plastics van Roij was able to remove slits between body parts. Hence the clean and fluid look of the car. All the lights use LED technology and are covered by the bodywork, at night they come to life.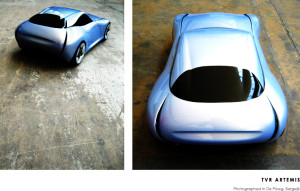 The streamlined, slitless surfaces and curvatures are also found inside the car. The dashboard features an instrument panel that emphasizes the electrical character of the car with the kWh gauge given the leading role.