Introducing the potential turbine of the future; the ultra efficient Wind Lens designed by
Kyushu University
professor Yuji Ohya. According to Yuji Ohya and his team the Wind Lens' honeycomb-like structure could triple the amount of wind energy that can be produced by offshore turbines.
The futuristic design was unveiled at 
Yokohama Renewable Energy International Exhibition 2010
. The lens shape structure intensifies wind flow and allows the turbine blades to turn faster. Ohya's design doesn't have too many moving parts — just a hoop that "magnifies" wind power, and a turbine that is rotated by wind captured from the hoop. Each Lens, which measures 112 meters in diameter, can provide enough energy for an average household.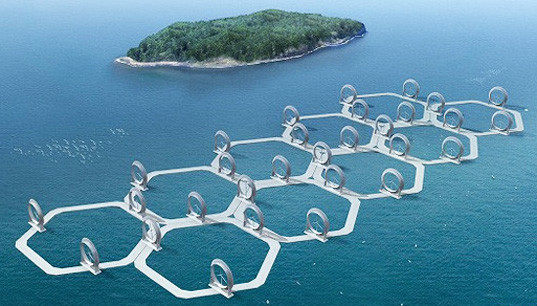 [newsletter]
Read more at Inhabitat: 
"Wind Lens" Turbines Could Boost Energy Generation 3X | Inhabitat - Green Design Will Save the World