I²C-homebus
Switch power outlets with your PC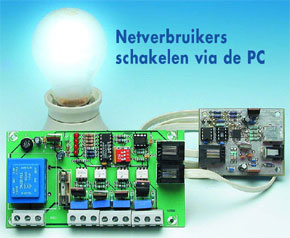 This unit, in combination with the USB/I2C interface described elsewhere in this issue, may be used to switch four mains-powered devices on and off via the PC. Eight of these modules may be connected to a single interface, allowing up to 32 loads to be controlled. The system is ideal for a small home bus!Triggered by other articles on home automation in this issue, you may feel like investigating the possibilities of automating, or at least remote controlling, a couple of electrical devices in and around your home. If you do not want to rush off to the high street stores to buy a box full of ready-made modules working on a more or less familiar protocol, then home construction of a small system is a perfectly viable alternative.An I2C system can be used without problems for a small home bus comprising a couple of features for control and switching. Provided extra bus drivers are applied, distances of the order of tens of metres are easily covered. The connecting cable between the modules is reasonably simple as we employ 6-wire UTP cabling with RJ11 plugs. Also, there is a wide choice of ICs with I2C compatibility, serving an impressive number of applications.
Downloading of this magazine article is reserved for registered users only.
Login
|
Register now!
CAM/CAD data for the PCB referred to in this article is available as a Gerber file. Elektor GREEN and GOLD members can exclusively download these files for free as part of their membership. Gerber files allow a PCB to be produced on an appropriate device available locally, or through an online PCB manufacturing service.

Elektor recommends its business partner Eurocircuits as the company of choice for its own prototypes and volume production in selected cases.
Resistors:
R1 = 47Ohm
R2 = 10kOhm 4-way SIL array
R3,R4 = 5kOhm6
R5-R8 = 270Ohm
R9-R12 = 1kOhm
R13,R16,R19,R22 = 390Ohm
R14,R17,R20,R23 = 330Ohm
R15,R18,R21,R24 = 39Ohm
R25,R26 = 10kOhm
Capacitors:
C1,C2,C3,C5,C6 = 100nF
C4 = 100µ F 16V radial
C7 = 10µ F 16V radial
C8-C11 = 10nF, safety class X2
Semiconductors:
B1 = B80C1500 in round case (80V piv, 1.5A)
D1 = LED, green, low current
D2-D5 = LED, red, low current
IC1 = P82B715PN (Farnell # 559-258)
IC2,IC5,IC6,IC7 = MOC3043 (Farnell # 885-710)
IC3 = PCF8574 (Digikey # 296-13106-5-ND)
IC4 = 7805
Tr1 = mains transformer, PCB mount, sec. 2 x 6V/2 x 1.5 VA (Farnell # 926-280)
Tri2-Tri5 = TIC206D (Conrad Electronics # 186333)
Miscellaneous:
F1 = fuse, 20mAT (time lag), with PCB mount holder
K3-K7 = 2-way PCB terminal block, lead pitch 7.5mm
K1,K2 = 6-way RJ11 connector (Farnell # 393-8359)
S1 = 3-way DIP switch
RJ11 cable (Farnell # 754-948)
PCB, order code 040333-1 (see Readers Service page or website)
Disk; all project software, order code 040333-11 or Free Download