on Miscellaneous Electronics
Published in issue 5/2006 on page 0
UV LED Light Box
More efficient PCB exposure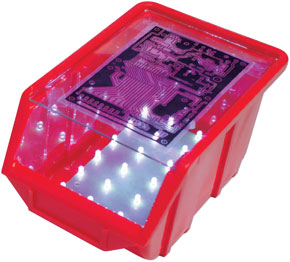 Commercial PCB exposure light boxes usually employ gas discharge tubes as an ultraviolet (UV) light source, these devices are however bulky, fragile and costly. Incandescent lamps are not a good alternative; they produce a lot of heat and relatively little UV. An interesting development boasting high efficiency and excellent reliability is the recently introduced UV LED.
Downloading of this magazine article is reserved for Elektor Members only.
Already a member? click
here
to log in.
Materials and suggested sources:
12 pcs. 120-? resistor
1 pc. diode 1N4001
24 pcs. UV-LED, Kingbright L-7113UVC (RS Components Stock No 507-4034)
1 pc. connection cable for mains adapter
1 pc. components storage cabinet with drawers, approx. size 140 x 220 x120 mm (W x L x H)
1 pc. glass platen, cut to size, or glass cover of frameless picture holder.
White or metallic silver self-adhesive foil (or clear lacquer, see text)
Materials and suggested sources:
12 pcs. 120-? resistor
1 pc. diode 1N4001
24 pcs. UV-LED, Kingbright L-7113UVC (RS Components Stock No 507-4034)
1 pc. connection cable for mains adapter
1 pc. components storage cabinet with drawers, approx. size 140 x 220 x120 mm (W x L x H)
1 pc. glass platen, cut to size, or glass cover of frameless picture holder.
White or metallic silver self-adhesive foil (or clear lacquer, see text)