Top-of-the-Bill Lights Sequencer
Programmable fairy lights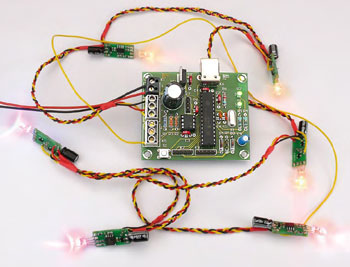 As Christmas approaches, rope-lights and fairy-lights are starting to appear in supermarkets everywhere. They're ridiculously cheap, it's true — but don't you think they're a bit short on originality? The project described in this article attempts to put this right, admittedly at greater cost, but what fun to build your very own Christmas lights, entrancing and totally unique — and what a fine present they'd make, too!
Downloading of this magazine article is reserved for registered users only.
Login
|
Register now!
CAM/CAD data for the PCB referred to in this article is available as a Gerber file. Elektor GREEN and GOLD members can exclusively download these files for free as part of their membership. Gerber files allow a PCB to be produced on an appropriate device available locally, or through an online PCB manufacturing service.

Elektor recommends its business partner Eurocircuits as the company of choice for its own prototypes and volume production in selected cases.
Master module
Resistors
R1 = 1kOhm
R2,R3 = 2.2kOhm
R4,R5 = 100Ohm
R6 = 22kOhm
R7 = 10kOhm
C1 = 1000µF 35V, radial, lead pitch 5.08mm (0.2 in.)
C2,C3,C4,C7,C8 = 100nF
C5,C6 = 22pF
C9 = 10µF 35V, radial, lead pitch 5.08mm (0.2 in)
D1, D2 = LED, 3mm (see text)
D3, D4 = 1N4148
IC1 = 7805
IC2 = 24FC1025-I/P (Microchip) (see text)
IC3 = PIC18F2550 (Microchip)
K1 = 2-way terminal block, lead pitch 5.08mm (0.2 in.)
K2, K3 = 5-way SIL pinheader, lead pitch 5.08mm (0.2 in.)
K4, K5 = 2-way terminal block, lead pitch 5.08mm (0.2 in.)
K6 = USB-B socket for IC (see text)
K7 = 4-way SIL pinheader, lead pitch 5.08mm (0.2 in.)
S1 = pushbutton, 1 make contact (see text)
X1 = 20MHz quartz crystal, HC49/U case
PCB, ref. 090125-1 [1]

Miniature lamp (each)
Resistors (SMD 1206)
R1 = 2.2kOhm
R2 = 100Ohm
R3 = 4.7kOhm
R4, R5 = 47Ohm
R6 = 47kOhm
Capacitors
C1 = 220µF 25V radial, lead pitch 2.54mm (0.1 in.)
C2 = 100nF (SMD 1206)
Semiconductors
D1 = LED, RGB, common anode
IC1 = TS78L05CX, SOT-23 case
IC2 = PIC12F508-I/SN (Microchip, SOIC150)
T1 = BC857, SOT-23 case
T2 = BC847, SOT-23 case
Miscellaneous
PCB, ref. 090125-2 [1]