about Computer/Software/Internet
Published in issue 2/2010 on page 70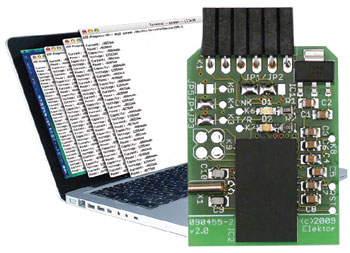 TTL Bluetooth Dongle
Wireless data comms made easy
Need to connect your circuit to a PC to transfer measurement values or data? How about wirelessly? If you think that would be way too complex, think again. The solution offered here is a Bluetooth device which from your circuit's point of view looks just like a UART with a PC (or other device) attached to the other end. It's as simple as plugging in a USB to TTL cable but without the wires!
Downloading of this magazine article is reserved to Elektor Members only.
Already a member? click
to log in.
Features
- SPP Protocol fully Integrated 'on chip' (other Bluetooth devices behave as if they are connected via a serial cable)
- No configuration necessary in slave mode, Plug & Play like a USB to TTL cable
- Module can be configured as master via the UART allowing two modules to communicate
- Communication up to 921600 Baud (configurable from 2400 to 921600 Baud using jumpers or software)
- 5 V supply uses an on-board voltage regulator
- Pin compatible with the USB to TTL adapter cable from FTDI
- Direct interface with microcontroller (3.3 V) possible
- UART including handshake signals
- 2 LEDs indicating Bluetooth link status and traffic
- Expansion with an external audio codec possible
- Low power mode using optional 32 kHz crystal

Resistors (all 0805)
R1,R2 = 330Ohm (1%)
R3..R5 = 1kOhm (1%)
Capacitors (all 0805):
C1–C5 = 100nF
C6..C8 = 2µF2
C9,C10 = 22pF
Semiconductors
D1 = LED, blue, SMD
D2 = LED, red, SMD
IC1 = LMS8117-AMP3.3
IC2 = LMX9838SB
Miscellaneous
X1 = 32.768kHz quartz crystal (CL = 6pF, 20ppm)
K1 = 6-pin SAL pinheader, 2.54mm pitch, right angled
Advertisement