The 5532 OpAmplifier, part 1
Design philosophy and schematics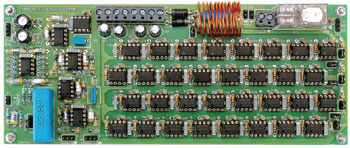 The most popular dual opamp in the world of audio is the (NE)5532. An interesting power amplifier can be made by connecting enough 5532s in parallel, how about 32 for a start? This may sound like a radical course of action, but it actually works very well, making it possible to build a very simple amplifier that retains not only the excellent linearity but also the power-supply rejection and the inbuilt overload protection of the 5532, which reduces the external circuitry required to a minimum.
Downloading of this magazine article is reserved for registered users only.
Login
|
Register now!
CAM/CAD data for the PCB referred to in this article is available as a Gerber file. Elektor GREEN and GOLD members can exclusively download these files for free as part of their membership. Gerber files allow a PCB to be produced on an appropriate device available locally, or through an online PCB manufacturing service.

Elektor recommends its business partner Eurocircuits as the company of choice for its own prototypes and volume production in selected cases.
Specification — per channel, 8 ohm load
Supply voltage: ±18.3 V
Input sensitivity
- unbalanced: 840 mV (16 W, 1 % THD)
- balanced: 833 mV (16 W, 1 % THD)
Input impedance
- unbalanced: 38.8 kOhm
- balanced: 93.6 kOhm
Output power, sinewave
- 0.1 % THD: 16 W
- 1 % THD: 16.8 W
Output power bandwidth: 1.5 Hz – 275 kHz
Slew rate: 5 V/µs
Rise time: 4 µs
Signal/noise ratio: (1 W ref.): 110 dBA
- 108 dB (B = 22 Hz – 22 kHz linear/unweighted)
Harmonic distortion + noise: 0.00055 % 0.0005% (B = 22 kHz, 1 kHz, 1 W)
- 0.0015 % 0.0009% (B = 80 kHz, 1 kHz, 1 W)
- 0.0006 % 0.0004% (B = 22 kHz, 1 kHz, 8 W)
- 0.0008 % 0.0005% (B = 80 kHz, 1 kHz, 8 W)
- 0.003 % (B = 80 kHz, 20 kHz, 8 W)
Intermodulation distortion: 0.0022 % 0.0012% (1 W)
- (50 Hz : 7 kHz = 4 : 1): 0,005 % 0.0015% (8 W)
Dynamic IM distortion: 0.0014 % 0.0011% (1 W)
- (3.15 kHz square wave + 15 kHz sine wave): 0.0035 % 0.0035% (8 W)
Damping factor: 194 (1 kHz)
- 111 (20 kHz)
DC-protection: ±1.5 V
Quiescent current : 300 mA