on Miscellaneous Electronics
Published in issue 1/2016 on page 116
Tektronix Type 503 Oscilloscope
"This is our entry level model"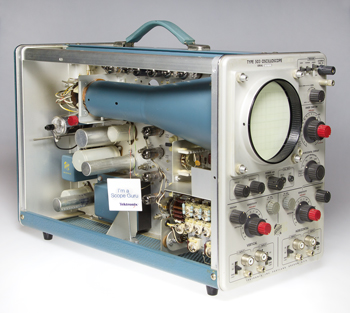 Delighted with the response I got to an earlier installment on Lazarusing a Tek 564 'scope I now tackle an older but lighter one, the 503. Junior and modest as it may look compared to its bigger brothers in the 500 series, the 503 has enough tech content to amuse and educate.
Downloading of this magazine article is reserved for Elektor Members only.
Already a member? click
here
to log in.
* Low frequency, high sensitivity lab instrument * Single trace * Junior device in 500 series oscilloscopes * Dimensions 21.25 x 9.75 x 13.5 inch * Weight 29.7 lbs * DC to 450kHz H and V * Differential H and V inputs, single ended supported * H and V input ranges 1mV/div to 20V/div * Sweep 1µs/div to 5s/div * Sweep magnifiers x2, x5, x10, x20, x50 * CRT: 5 inch, blue phosphor, long persistence, 3kV * AC power 105-125V, 210-250V, 50Hz, 60Hz * 120W max. power consumption * Highly instructive manual * Topic starter for ages 8–88