by

Daniël Eindhoven

on Miscellaneous Electronics
Published in issue 11/2017 on page 58
Spiral MicroTesla
sparks from a USB charger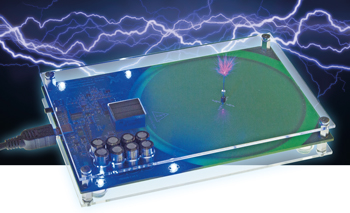 It seems to be an unwritten rule in Hollywood: there must be an assortment of devices that crackle and spark in the lab of a mad scientist. It doesn't matter that all those noises and flashes have no apparent purpose, as long as the effects look spectacular!
CAM/CAD data for the PCB referred to in this article is available as a Gerber file. Elektor GREEN and GOLD members can exclusively download these files for free as part of their membership. Gerber files allow a PCB to be produced on an appropriate device available locally, or through an online PCB manufacturing service.

Elektor recommends its business partner Eurocircuits as the company of choice for its own prototypes and volume production in selected cases.
* High voltage Tesla coil
* Uses printed PCB coils
* Powered by USB charger or adapter
* Safe sparks
* Complete DIY kit available
Component List
Resistors
Default: 1%, 0.125W, SMD 0805
R1,R2,R3,R4 = 10kOhm
R5 = 47kOhm
R6,R7 = 2.2kOhm
R8 = 150kOhm
R9, R11,R12,R13 = 33kOhm
R10,R18,R19,R20,R21,R22 = 120Ohm
R14,R15,R16,R17,R23 = 330Ohm
R24 = 0.1Ohm, 250mW, 1%, SMD 1206
R25 = 1.5kOhm
R26 = 68Ohm, 250mW, 5%, SMD 1206
R27 = 10Ohm
R28,R29 = 100kOhm

Capacitors
C1,C2,C3 = 47nF, 400VDC, 5%, PP, 15mm pitch, 5mm width
C4,C5,C19,C21,C23 = 10µF, 35V, 10%, SMD 1210, X7R
C6,C7,C8,C9,C10,C11,C12,C32 = 220nF, 50V, 20%, SMD 0805, Y5V
C13,C14,C15,C16,C17,C18 = 10nF, 50V,10 %, SMD 0805, X7R
C20 = 2.2µF, 50V, 10%, SMD 0805, X5R
C22 = 220pF, 50V, 5%, SMD 0805, C0G/NP0
C24,C25,C26,C27,C28,C29,C30,C31 = 220µF, 35V, 20%, 8mm diam., 3.5mm pitch, EEUFC1V221L (Panasonic)
C33,C34,C35 = 4.7µF, 16V, 10%, SMD 0805, X7R

Inductor
L1 = 6.8µH, 3.04A, 0.0498Ohm, SMD

Semiconductors
D1 = SP0504SHTG, SMD SOT-23-6
D2 = VSSA310S-M3/61T, 100V/3A, SMD SMA
D3 = BAT54S, SMD SOT-23
D4 = BAV99, SMD SOT-23
LED1 = red, low power, SMD, KPTL-3216EC (Kingbright)
LED2,LED3,LED4,LED5 = blue, low power, SMD, KPTL-3216QBC-D (Kingbright)
T1 = DMP1045U, SMD SOT-23
T2,T3 = IRLML2030TRPBF, SMD SOT-23
T4,T6 = FZT851, SMD SOT-223
T5,T7 = FZT951, SMD SOT-223
IC1 = LT3477EFE#PBF, SMD, TSSOP-20
IC2 = UCC27537DBVT, SMD SOT-23-5
IC3 = UCC27536DBVT, SMD SOT-23-5
IC4 = SN74LVC1G04DBVR, SMD SOT-23-5
IC5 = PIC18F14K50-I/SS, SMD SSOP-20

Miscellaneous
X1 = 12.0MHz resonator, 0.5%, 5pF with internal capacitors, AWSCR-12.00CV-T (Abracon)
K1 = USB-B mini-connector, horizontal PCB-mounting, SMD
K2 = turned-pin IC socket (only one contact required)
K4 = 6-pin SIL pinheader, 0.1'' pitch
S1 = pushbutton, horizontal, SKHHLQA010 (Alps)

Mechanical components
8 spacers 15 mm
4 bolts M3 x 40 mm plus nuts
Acrylic sheet top, 100x150x2 mm
Acrylic sheet bottom, 100x150x2 mm

Miscellaneous:
PCB 160498-1 v1.4