Kosovo's complex energy crisis might be solved by the Turks rather than Europe or the US
Blackouts, black clouds and guns
Kosovo's single energy distribution and supply company has recently been taken under the care of a joint-venture of two Turkish companies, Limak Insaat and Calik Holding, who won a long-drawn out bid. The acquisition is part of a wave of privatisation of the state's assets, which started in 2008, to attract investments in one of Europe's poorest countries. Limak and Calik bought the company in June 2012 at what many considered to be a rather advantageous price for such an asset: €26.3 million. But the package includes some treats that most energy companies would not very much relish: regular electricity cuts, non-payment of energy bills, political duties and even the possibility of having to deal with future civil unrest are just some of the daunting challenges the Turks will face.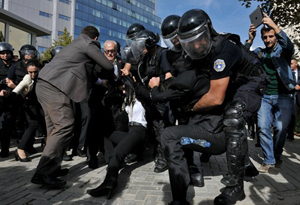 Kosovo police officers struggle with opponents of the privatization of the country's electricity distribution network (c) AP
If you are an energy bill collector in Kosovo, you had better watch your back. Last March, in a village called Letanc-Podujevë, a man fired seven shots at the car of an employee of KEK (Korporata Energjetike e Kosovës, the distribution and supply network of Kosovo's Energy Corporation). He happened to be around when houses were disconnected from the power supply in that area. Firearm attacks have happened "repeatedly" and are "a major obstacle", the company announced in a press release.
And this is just one of the many problems facing Kosovo's energy scene. Add heavy political interference, power shortages, illegal supplies, poor maintenance plus the general depressed economic climate, and you get a picture of what energy companies in Kosovo are up against. So why did Limak and Calik decide to take on the hazardous venture of buying the Kosovo electricity supply and distribution company from the State? "We wanted to be in Kosovo and the country needed an investment in the energy sector," says Ýsmail Ergünes, head of Limak's Energy Distribution business, headquartered in Turkey, in a telephone interview with EER. "Kosovo is a small country and we can manage stakeholders in an efficient way."
The most important of those "stakeholders" are no doubt the company's customers - and they will require quite a bit of "management". Kosovo, one of Europe's poorest states, still under UN administration and its independent status (it officially broke from Serbia in 2008) not yet recognized by five countries in the EU, had little choice but to privatise state assets to bolster its national budget. But the privatisation of KEK has received a lukewarm response from the locals. They will very likely be faced with higher electricity bills.
"Electricity bills will inevitably go up as a result of the privatisation of KEK's distribution and supply unit", says Pranvera Dobruna, who was CEO of KEK in 2006 and 2007 and also used to work for the Ministry of Mining and Energy. "These investors will want to earn their money back through cost-reflective, higher tariffs."
Commercial losses
At the moment, KEK faces major losses every year as a result of what are called "technical losses", which account for around 17% of the total distributed energy, and "commercial losses" (i.e. theft, also called "uncontrolled energy supply"), which are around 24%. According to Dobruna, who now works as consultant involved, among other things, in Kosovo's membership of the Energy Community, Kosovo residents pay for only 41% of all the energy that is distributed.
The new owners of KEK intend to change that. They want to run KEK at a profit. "We need to achieve certain targets regarding the technical and commercial losses, otherwise we will lose this money," says Ergünes.
Limak and Calik are planning to invest €110 million in KEK in the next five years and €300 million in the
"Electricity bills will inevitably go up as a result of the privatisation of KEK's distribution and supply unit"
next fifteen years. "It may even be much, much more", says Ergünes, adding that it all depends on whether the business reaches its targets. "If we encounter more difficulties, we'll need to put more money in […], but the distribution company must also have some profit. There is a right to amortize the investment made […] and the electricity price should increase, but not much more."
Ergünes, who manages energy distribution businesses that cater for some 10 million customers in Turkey, points out that reducing commercial and technical losses will also make it possible to reduce bills for many customers. "If about 30% of a customer's bill goes into paying for all commercial and technical losses and we invest money to reduce those losses, that means that, at the end of the day, the prices of bills may well go down."
Limak has set an ambitious 2019 target for commercial and technical energy losses altogether: 20%. "All commercial losses should be zero," says Ergünes, "but that's not realistic, because there are some social problems, as well as income problems and high unemployment in Kosovo. But, still, we expect it to go down to at least 8-9%." The new owners want to increase the bill collection rate to 93%. Ergünes: "If we achieve this, then it's been a good investment."
Zero bills
To reach those targets will hardly be a piece of cake. USAid, an organisation with permanent presence in Kosovo wrote in a recent report, that one of KEK's overriding problems is the "zero bill" - meaning consumers not paying for the energy they use.
An internal audit report of KEK also revealed low meter reading quality and a high number of "zero bills" in four out of Kosovo's total seven districts - up to 17%. It also identified misreporting and falsification and serious underperformance in disconnections. The audit spoke of "gross neglect of KEK's approved policies and procedures", adding that districts "continuously fail to enforce payment discipline". These problems were worsened by the failure of management to reduce commercial losses.
Turning households off from the grid is often easier said than done in Kosovo, as the incident in Letanc-Podujevë illustrates. The police often have to be called in to help.
Some of the most "problematic" customers are in northern Mitrovica, in the Northern part of Kosovo, where unlike the majority of the country, the population is predominantly Serbian rather than Albanian.
Kosovo residents pay for only 41% of all the energy that is distributed
The relationship between the northern part of Mitrovica and the rest of Kosovo has been fragile since the war in 1999, and an advertisement on the bridge that splits the city warns of the differences: "obligatory possession of legal identity card; gatherings are prohibited; malicious or provocative behaviour shall be repressed immediately".
By law, KEK is the only licensed distribution system operator and public supplier for the whole territory of Kosovo. But in northern Mitrovica locals prefer to deal with Serbian companies. KEK said in 2011 in a press release that two unlicensed entities, Elektrokosmet and Elektroprivreda Srbije (EPS), were operative in areas north of the Ibër River.
Another problem that the Turkish buyers of KEK will have to confront is bloated staff numbers. Since Pranvera Dobruna left the company in 2007, an additional 900 employees were hired, without a change in fundamental operations. "It's about political stability - you keep it by employing people," explains Dobruna.
Restructuring the company has not been easy for any manager of KEK. Labour unions have a strong voice in the country.
"There are too many employees in the company, there are many, many people in the company, much more than needed. [They are] about 2,700 in total, it's a big problem," says Ergünes. "But we cannot fire anyone, we have to keep them on for the first three years."
One solution is to start up projects that will boost employment, such as building more renewable energy plants, says Dobruna. "We should start [solving this issue] by creating new jobs in the renewable sector."
International organisations
Ironically, despite the huge problems in the energy sector in Kosovo, the country has not had a Ministry for energy since 2010.
"This just shows how much of a priority energy is for the government," says Avni Zogiani, founder of Kosovo civil society organisation 'Çohu!'.
Zogiani notes that international organisations are the ones mainly in charge with the energy situation of
In northern Mitrovica locals prefer to deal with Serbian companies
the country. They are the ones who prepare reports, offer advice and supervise the most important decisions. "The decisions are almost completely controlled by international bodies." Zogiani says that when his organisation complained to the government for not disclosing relevant documents in privatisation cases, he received a reply from the US embassy instead. "They exert a lot of influence here."
Dobruna calls for the rapid re-establishment of Kosovo's energy ministry. "We don't have an energy address in Kosovo at the moment. The Ministry of Mining and Energy (as it used to be called) should be separated from other government portfolios."
Mountain of lignite
In the generation sector, the state-owned unit of KEK that is now separated from the supply and distribution unit is facing plenty of problems as well. The country imports around 10% of its energy needs, mainly from Serbia. According to Zogiani, the import contracts are highly disadvantageous, at €75 per MWh, whereas domestic production costs about €27-€30.
The myriad problems with Kosovo's distribution and generation mean that Kosovars can never predict for how long their lights will stay on - electricity cuts are the rule rather than the exception in the country. And the situation may well get worse.
Virtually all domestic power production (98%) comes from two old lignite-fired power plants, one of which is 40 years old. Kosovo is sitting on a mountain of lignite - the state possesses the world's fifth-largest proven reserves, about 11 million tonnes of exploitable lignite. However, by joining the Energy Community, which is made up of non-EU members who are already adopting EU energy policies into their legislation, ahead of a possible future EU membership, Kosovo has committed itself to retiring one of the two power plants, Kosova A, by 2017. This will leave Kosovars short of almost half of their current energy supply, about 450 MW.
The single other plant belonging to the KEK energy generation, Kosova B, which provides 550 MW per year, is not in a much better state: it needs immediate retrofitting. The problem is that the total cost of
"Zogiani says that when his organisation complained to the government for not disclosing relevant documents in privatisation cases, he received a reply from the US embassy instead"
plant additions and upgrades necessary for Kosova B to meet the EU's Large Combustion Plants (LCP) Directive is estimated at €187 million, according to a final study report. Add the cost of new equipment and technical rehabilitation that will extend Kosova B's life and the bill hits €321 million. Kosovo does not have this money, although no one would dispute that the investments are necessary: they would sharply reduce the emissions of particulates, nitrogen oxides and sulphur dioxide, which now create a visibly health-damaging yellow smog emanating from the power plant.
At the same time, plans to save the situation by building a new power plant are stagnating. The bidding for the building of a new power plant, Kosova C, started initially in 2006 and was delayed to 2009. Then it was delayed again, after two bidding failures.
All this means that Kosovo is heading at full speed towards an energy crisis, which is expected to also have social spillover effects: at the moment, Kosova A employs around 1,000 people who would lose their jobs if no alternative plant is built. "We are very, very late," Dobruna says, referring to the failure to build a new coal-fired power plant. "The privatisation of KEK distribution should have been done in parallel with private sector participation in the construction of a new power plant."
Fleeing the area
The question is whether it is a good idea at all to replace the lignite power plant with another coal-fired power plant. Environmental NGO's don't think so: they would like to see lignite-based production be replaced by renewable energy. They say that people in Kosovo are 74 times more exposed to toxic substances, ash and dust than in any other country abiding by the EU's pollution limits. People living in the vicinity of the power plants are fleeing the area when possible, and the incidence of lung diseases is high, according to research by The Institute of Peace and War Reporting. The plants also emit toxic substances in the soil and water. A recent report of the Organisation for Security and Co-operation in Europe and Office International de l'Eau said: "it is a concern to maintain the quality of the drinking resource and of the water in the [Ibër Lepenc] channel in the long run, as the pressure from pollution sources is increasing [in Kosovo]".
Organisations such as the Kosovar Institute for Policy Research and Development, the Forum for Civic Initiatives and the Government Accountability Project Institute have also claimed, for example in their 2011 Energy Projects in Kosovo report, that "all these projects [they refer mainly to the building of the new Kosova C plant] are being implemented without necessary studies on alternative sources of energy, reduction of commercial and technical losses, and improvement in energy-efficiency measures."
The American Sierra Club green NGO claims in a report that "the new coal power plant will harm human health and EU accession".
However, Kosovo cannot rely totally on renewables, even if it had the money to do so. A recent study
"The new coal power plant will harm human health and EU accession"
from the University of California, Berkley, shows that a low-carbon path exists for Kosovo that integrates aggressive energy efficiency deployment, use of both large and small-scale hydropower, solar, biomass and extensive use of wind energy. This path will reduce human and ecological damage, but, the report says, it will only deliver 38% of the energy demand through renewable resources.
"We are facing a complete uncertainty about what's going to happen," says Zogiani. "They talk about switching to renewables, but there is no vision on what to do in the meantime."
Turkish dominance
So it may seem that the Turkish companies have not made a smart move by purchasing KEK. But there may be more to their move than meets the eye. Their decision was not in any way rushed. The due diligence took over three years to complete and the problems riddling KEK are no secret.
Rather, the move by the Turks should be seen as part of a wider trend of increasing Turkish dominance in Kosovo's economy. Turkey has had a strong presence on the privatisation scene of Kosovo - Turkish companies have floated their interest over the country's biggest deals - they own motorways, they are eyeing telecommunications companies and construction projects. Limak, one of the new owners of KEK, had earlier already won the public-private partnership (PPP) concession contract for Prishtina Airport, which is the largest investment project by any international company in Kosovo, worth around €140 million. Turkey has also recently pledged to help Kosovo raise its military capacity, by aiding the Kosovo Security Forces, KSF, to reach its full operational potential.
So KEK's two new owner companies will no doubt have to navigate stormy waters in the next few years. But in the long term, they may become the winners.
Ana-Maria Tolbaru is a free-lance journalist based in the Balkans.