Floating ideas to cut LNG costs
The vital role that LNG can play in diversification of natural gas supply sources has been highlighted by the Ukraine crisis. Some are suggesting Europe should lessen its dependence on Russian gas by importing liquefied shale gas from North America. However, the LNG industry is facing a major challenge: the ballooning of construction costs for new supply projects. The utilisation of floating LNG (FLNG) production facilities has emerged as a possible solution. But how credible is FLNG as a means of cutting costs?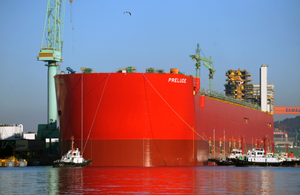 Measuring nearly half a kilometre in length and weighing over 200,000 tonnes, Prelude's enormous hull was floated out of its dry dock in December (Source: Shell)
Until the early 2000s, the cost of constructing LNG production facilities was on a declining curve – typical of most industries – as liquefaction technology grew in scale and became increasingly efficient. At one stage the cost of a new LNG "train" fell below $200 per tonne per year ($/t/y) of production capacity. However, over the past decade the costs of new liquefaction projects have risen to eye-watering levels.
This ballooning of construction costs has been particularly notable in Australia, which is where the next big wave of supply will come from. Before the end of this decade, Australia will overtake Qatar as the world's largest producer of LNG.
But while Qatar's LNG projects required capital expenditure of the order of hundreds of dollars per tonne per year of capacity, the new Australian projects are costing thousands per tonne per year. Individual projects are costing tens of billions of dollars. Inevitably this has had a huge impact on the prices these projects need to realise to be profitable, and that in turn is making LNG less competitive in many markets than alternative fuels, such as coal.
One potential answer to reducing the costs of LNG projects – or at least making them more controllable and predictable – is the use of floating production storage and offloading (FPSO) facilities, a technology usually referred to as floating LNG (FLNG).
FLNG has been decades in development. When Shell announced final investment decision (FID) for Prelude – the first-ever FLNG project to pass this important milestone – in 2011 it revealed that it had spent hundreds of millions of dollars and 1.6 million man-hours on the engineering design. However, in commercial terms, it is only now – with real projects coming to fruition – that the full potential of FLNG technology is becoming apparent.
Sea change
Until recently floating liquefaction was regarded primarily as a technology for the monetisation of remote stranded gas fields. The industry view was that FLNG would open up opportunities to bring offshore gas resources to market that were uneconomic because they were too costly to develop using conventional technologies.
But attitudes towards FLNG have changed radically in the past couple of years. Today FLNG is seen by some as of much greater importance to an industry wrestling with escalating capital costs. The rationale is simple: reduce costs and risk by leveraging the capabilities of the world's great shipyards – such as those in South Korea – to do all the tricky engineering, instead of spending billions on creating new onshore infrastructure for stick-built onshore plants in virgin locations.
The potential for FLNG to reduce the cost of new supply projects appears to be rapidly gaining acceptance amongst the sponsors of major new gas developments. This is despite the fact that we have yet to see the first such project start up.
Under construction
FLNG may have been a long time coming, but since Shell announced FID on Prelude in 2011 developments have accelerated rapidly, especially in recent months. There are now four projects under construction and the list of credible proposed projects continues to grow.
By far the largest of the four under construction is the Shell-led Prelude project, whose shareholders include Korea Gas Corporation (Kogas), Japan's INPEX and Taiwan's CPC. When Prelude begins operation 200 km offshore Australia in around 2017, it will produce 3.6 million tonnes per annum (mtpa) of LNG, 0.4 mtpa of LPG and 1.3 mtpa of condensate. It has been designed to withstand Category 5 cyclones and so will remain in position even in the worst metocean conditions.
At the start of December Shell announced that Prelude's hull – the largest floating structure ever to have been constructed (see photo) – had been floated out of its dry dock at the Samsung Heavy Industries (SHI) shipyard located on South Korea's Geoje Island. Operation is expected to begin in around 2017.
Malaysia's national oil and gas company, Petronas, has two projects under construction: Petronas FLNG 1 (PFLNG 1), with a capacity of 1.2 mtpa, and PFLNG 2, capable of producing 1.5 mtpa. PFLNG 1 has been under construction since June last year at the Daewoo Shipbuilding & Marine Engineering (DSME) shipyard at Okpo, also on Geoje Island. It recently reached a significant milestone with the start of the laying of its keel early this year. On 5 April the hull was launched to anchor at the shipyard's quayside, signifying the near-completion of hull construction works. Petronas is on track to be completed in the fourth quarter of next year.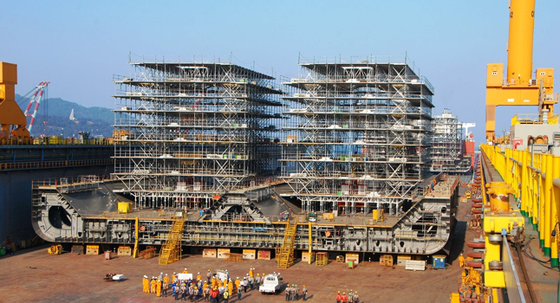 The start of the laying of the keel for Petronas FLNG 1 – the basic structure around which the hull of the vessel has been built – took place in January. (Source: Petronas)
PFLNG 2 is just entering the construction phase, following an FID reached by the Petronas board in January. It is due to begin operation in 2018.
As things currently stand, however, the first FLNG project to begin operation is likely to be an Exmar project for Pacific Rubiales in Colombia, the vessel for which is being constructed in a Chinese shipyard. It was initially due to come on stream this year but looks likely to be delayed into early 2015. Unlike the three other projects, it will operate near-shore rather than out in the open ocean. It is also a much smaller facility, with a production capacity of 0.5 mtpa.
Credible contenders
Of the growing list of proposed projects, one of the most promising is Excelerate Energy's 4.4 mtpa Lavaca Bay project in the United States. A formal application for approval to site, construct and operate the plant has recently been submitted to the Federal Energy Regulatory Commission (FERC). That approval is likely to take at least a year, making the likely FID date sometime in the first half of 2015.
Lavaca Bay is interesting in several ways. It is likely to be the first of several FLNG projects in the United States. Also significant is its estimated cost, of around $2.4 billion for 4.4 mtpa of capacity. That equates to around $550/t/y of capacity – significantly cheaper than the new Australian projects and on a par with new onshore facilities in the US that are conversions of existing regasification facilities. These "regas conversions" have the advantage of already having significant infrastructure in place, whereas Lavaca Bay will be a green-field project.
Other FLNG projects have been proposed in Australia, Mozambique, Israel, Equatorial Guinea and elsewhere, and some of these projects are hoping to take FID either this year or in 2015.
An instructive example of how project sponsors are turning to FLNG to reduce costs is the Browse LNG project in Australia. The project aims to develop three gas and condensate fields that lie in the Indian Ocean, 425 km north of Broome in Western Australia. In 2010 the joint venture participants opted for a development concept that would have located the liquefaction facilities onshore.
However, in April 2013 Woodside announced that "the development concept does not meet the company's commercial requirements for a positive final investment decision". Soon afterwards, Woodside announced it had entered into an agreement with Shell, setting out the key principles that would apply if the Browse resources were to be developed using Shell's FLNG technology.
A few months later Woodside confirmed that FLNG was the option it intended to recommend to the joint venture participants, with a target date for FID of mid-2015.
The move from offshore to FLNG development sparked a heated political debate during 2013. Western Australian Premier Colin Barnett insisted he was opposed to Browse going forward as an FLNG project, not least because an onshore development would create more jobs. Federal Resources Minister Gary Gray, meanwhile, argued that it should be left to the project's participants to choose how best to develop the Browse resources. Preventing them from choosing the FLNG option could mean that the resources remain undeveloped, costing Australia billions of dollars in lost royalty revenues . . . and jobs.
This is not a new argument. Woodside and partners and East Timor have been arguing for years over how best to develop the proposed Sunrise LNG project. East Timor wants the liquefaction project onshore, because of the economic benefits it would bring to a small, young and poor nation. Woodside and partners want to develop Sunrise as FLNG because that would be, they believe, a much cheaper option. The current political deadlock has meant that the project languishes at the bottom of the list of growth opportunities that Woodside is planning to pursue.
Not proven
FLNG is controversial in other ways. For a start, we have yet to see whether the technology will work as expected. This is less of an issue for near-shore projects such as Pacific Rubiales or Lavaca Bay. But it is very much an issue for the FLNG facilities that will be operating out in the open ocean, such as Prelude and the two PFLNG projects.
Another controversial aspect of FLNG technology is that, even if the projects operate as intended, the economics of the technology are not yet demonstrated. Because no projects have yet begun operation, no one can be sure just how the economics will pan out in reality.
FLNG may have been a long time coming – but it is clear that the long wait will soon be over. What we have yet to see is whether its proponents will be able to deliver on their cost promises.