Vattenfall - multinational on a leash
Vattenfall, Sweden's largest, Germany's third-largest and Europe's sixth-largest electricity producer, is not having it easy. Technological failures, poor communications, heavy reliance on fossil fuels and overgenerous bonuses for its top management have tarnished the company's reputation. Its owner, the Swedish government, is sending out conflicting signals. It does not want to forego the large profits it makes from the supply of coal-based energy, yet wants to establish the company as a model of green energy. Meanwhile Vattenfall's ambitious carbon capture and storage activities in Germany are facing strong public resistance. The government is now pondering what to do with its energy champion. One solution being discussed is to split it into a public Swedish division and an international private one. As Norwegian CEO Øystein Løseth is careful to wait for directions from the government, a lot may depend on the new Chairman, Lars Nordström, who was appointed last Friday.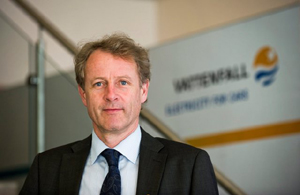 Vattenfall CEO Øystein Løseth (photo: Fredrik Sandberg/AP/Press Association Images)
Recent months have been 'tough'. That was the word Björn Savén used in the opening address of the annual shareholders' meeting of Sweden's number one state-owned enterprise in April. Just the month before, he had suddenly been forced to step from the shadows as vice-chairman of the board to take over the post of chairman Lars Westerberg. Westerberg had been unceremoniously stripped of his office by the Minister for Financial Markets, Peter Norman. According to Norman, it was 'completely unacceptable' that the experienced executive had approved severance pay of 12 million Swedish kronor (€1.33 million) for CEO Lars G. Josefsson, who had resigned in April 2010. Not only was this contrary to Josefsson's employment contract, Westerberg had also failed to inform the government of this arrangement and had even gone as far as ordering that it should remain a secret. The human resources director, as the only other person who knew about the deal, was forced out along with him. Half of the money had already been paid out. Josefsson returned it.
The man who had turned Vattenfall from a national treasure into a top player on the European market – between 2001 and 2010 turnover increased €7.6 to €23.6 billion – and who had ensured that during this period, out of €16.6 billion of profits, €6.2 billion worth of dividends had been paid into the Swedish treasury – had overstepped the mark when it appeared last year that he had signed a
controversial agreement
in 2008 for its German nuclear power plants. Under this agreement (Beherrschungsvertrag), which is customary in Germany, the operator holds unlimited liability for damages in the event of an accident. In Sweden it was held that Josefsson had effectively mortgaged the entire company to the German government. The bonus for Josefsson added insult to injury.
But the bonus problem was not confined to the CEO. In Germany, too, Vattenfall's top management had been rewarded bonuses totalling some €13.3 million. And the company continued to pay top rewards to its international executives, ignoring the strict Swedish rules for maximum payments to executives of
'I think we can use the mentality of the Dutch people in the larger company'
state-owned enterprises. Today only 16 managers of Vattenfall are affected by the Swedish rules. Although the current government approved the arrangement, the opposition parties – Social Democrats and Greens – have now appealed to the parliamentary Constitution Committee (Konstitutionsutskottet) to find out whether the Minister for Industry, Maud Olofsson, has fulfilled her supervisory task properly. In addition, the Serious Fraud Office (Riksenheten mot korruption) is investigating whether Josefsson's case constitutes a gross breach of trust.
At the start of April, another controversy broke out as it turned out that Josefsson's successor, Øystein Løseth, is set to receive his pension at 57 (on 31 March 2015), with €2.1 billion in pay to boot. Green party leader Gustav Fridolin railed against this use of 'public money'. In Sweden employees of state-owned enterprises don't get a pension before the age of 62 (– but Løseth is a Norwegian). The Swedes complain that Løseth has introduced German and Dutch employment criteria into the Swedish system. He was CEO of Dutch energy company Nuon when he was hired by Vattenfall, after the Swedish company took over the Dutch one.
Risk profile
In an interview with European Energy Review, Øystein Løseth expresses the hope that 'we have all that behind us now. We are going through all the conditions for the 16 top managers. And we are very careful about entering into new long-term contracts. We are looking for competitive conditions, we will not be leading the market.' With regards to his own contract, he directs all queries to the board.

But arguably more important than the bonus issue, is the company's strategy, which is also being criticised. Last year, the government issued new rules requiring the company to pay greater attention to efficiency and value creation. The government wants to continue to see an annual rate of return on equity of 15%. This level was last achieved in 2007; in 2010 it was 10%. One way Løseth wants to reach the target is by cutting €664 million in costs by the end of 2013. The investment programme for 2011-
'I think that eventually Vattenfall will start up a new nuclear power plant'
2015 will be reduced by 18% to €18.2 billion. Whether these measures will be sufficient remains to be seen. In the autumn of 2010 rating agency Standard & Poor's revised Vattenfall's A rating, adding a negative outlook. This was the result of 'Vattenfall's weakened risk profile following a €9.8 billion acquisition of Nuon Energy in 2009.' In addition, the agency considers the investment programme for 2011 to 2015, 'which will be partly debt-funded, to be aggressive.' In just one quarter Vattenfall's debt increased by €10.4 billion to €17.4 billion, and at the end of 2010 its debts stood at €16 billion.
But the 'negative outlook' does not bother Ǿystein Løseth very much. 'We still have an A-rating, just like we did before. Even in a tough market we were able to stay at that level. That is quite an achievement. And we have taken measures to reduce our debt.' As for the Nuon takeover, at which Løseth as CEO of Nuon was on the selling side, the Norwegian still considers it a good move on the part of the buyer. 'Over time it will be good for Nuon and for Vattenfall. I think we can use the mentality of the Dutch people in the larger company. And over time I am sure the culture in the whole company will change and we will become a more international company. That will also help our efficiency.'
Vattenfall has decided to focus on three markets - Sweden, Germany and the Netherlands. Most of its activities in Finland, Denmark, Poland and Belgium will be wound up. The goal is to 'improve the balance sheet and reduce CO2 emissions.' Vattenfall also sees opportunities in wind power in Great Britain and hydropower in France. The company has set itself the goal to reduce CO2 emissions between 2010 and 2020 from 90 million tons per year to 65 million tons. By 2050 it wants to be carbon-neutral.
Key target
The central focus of the reorganisation programme will be Germany. Vattenfall's German activities are the key target of Swedish criticism. Conversely, in Germany negative feeling towards Vattenfall is also running high. In the eyes of the Swedish, their green image, which is based on Vattenfall's domestic energy mix of 41% hydropower and 57% nuclear power, is besmirched by Vattenfall's German activities, where 89% of its electricity comes from coal. It's often said that in Germany Vattenfall produces more CO2 than the whole of Sweden. Jonas Sjöstedt, representative for the left-wing party Vänstre in the European Parliament says, 'We want to be the best.' Vattenfall Germany does not live up to this ideal.

The incidents at Vattenfall's Krümmel and Brunsbüttel nuclear power plants in 2007 are well-known. They led to the personal intervention of Angela Merkel and to a lot of irritation among Vattenfall's colleagues, as the company had embarrassed the entire industry. Krümmel and Brunsbüttel are still being repaired and are losing around €1.33 million every day. What will become of them is anyone's guess. 'We are waiting for a decision from the German government', Løseth says matter-of-factly. At the same time negotiations with Eon, which holds an interest in Krümmel and Brunsbüttel, are continuing.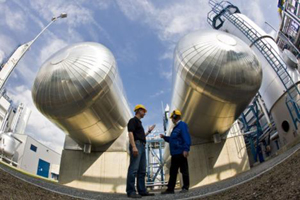 Schwarze Pumpe in Brandenburg, Vattenfall's flagship pilot plant for CO2-capture (photo: picture alliance / dpa/dpa-Zentralbild)
Løseth admits that 'the nuclear power issue in particular has tarnished Vattenfall's image. I think it will help when Eon takes over the operatorship of the two nuclear power stations. They have a better reputation.' He adds that 'we have not stopped the works at Krümmel and Brunsbüttel. In due time they will hopefully start up again, at least Krümmel will.' The Norwegian is convinced that nuclear power still has a future, also for Vattenfall, at any rate in Sweden. 'I think that eventually Vattenfall will start up a new nuclear power plant', he says. 'When it will happen? Probably after my time. But as a company, Vattenfall will participate in the development. The government has said: Sweden should stand on three legs; hydro, wind and nuclear. Without the nuclear part, it will be difficult for Sweden to keep the same production level.'
In addition to Vattenfall's ongoing and intensive mining of brown coal, the company's construction of two new coal-fired power stations (a hard coal station at Moorburg near Hamburg and a brown coal plant at Boxberg in Saxony) represents another thorn in the flesh of Swedish critics. The plants will lead to extra CO2 emissions of 15 million tons annually. Lise Nordin, energy spokeswoman for the Green party in the Swedish parliament, is calling for an immediate cessation of Vattenfall's investments in brown coal, saying 'it does not look good for a Swedish company.' She says the government should never have approved the construction of the power stations. Løseth concedes that that 'if we had the chance to take the same decision today, it would be different.' In his opinion, however, abandoning the project now would be a waste of money.
Massive help
Another urgent decision the company is faced with relates to eastern Germany. At Schwarze Pumpe in Brandenburg Vattenfall has built the first pilot plant for CO2-capture at a coal-fired power station. With a capacity of 30 MW (a the 1600 MW plant) it is the first of its kind in the world using oxyfuel-technology. In
'We are trying to engage as many non-Vattenfall experts as possible in our information campaign'
addition, Vattenfall has plans to build a much bigger CCS plant at the 3000 MW brown coal fired plant Jänschwalde. This plant, which is estimated to cost €1.5 billion, of which €180 million are coming from the EU, will work both with oxyfuel and post-combustion technology. It will capture well above 90% of CO2 up to a total of 2,7 million tons a year and is planned to be operational in 2015. The main problem with both projects, however, is that the plants themselves use too much power, which leads to much higher costs. Another, even bigger problem is to find appropriate underground storage space.
Nevertheless, Løseth is optimistic. 'We are on track. We know the technology works at least at the 30 MW plant. The problem lies in the injection part, in the underground reservoirs. We are not allowed to test them. More and more German states are unwilling to let that happen.' At considerable cost and with the massive help of its own employees, Vattenfall is seeking to convince politicians and the public that the project is worthwhile. Every week the company organises meetings at the small town of Beeskow, where the CO2 is to be injected, and in other parts of Brandenburg. 'We are trying to engage as many non-Vattenfall experts as possible in our information campaign', explains Kathi Miedtank from the regional Vattenfall press office in Cotbus.
Christian Taubert, the local editor in that same city for the Lausitzer Rundschau newspaper, thinks that 'it is hard to get members of the public to believe in the project.' Nevertheless he concedes that Vattenfall 'is doing a lot to gain people's trust and to treat the people fairly.' Ruth Buder, the editor of the Märkische Oderzeitung newspaper who works in Beeskow, believes that the company is 'caught in the middle'. First of all it is waiting on the CCS decision of the Federal Government, which is working on a law for all of the Federal Republic of Germany. However, each federal state can then also independently decide whether or not to approve CO2 storage. So Vattenfall is focusing its efforts on the Brandenburg capital Potsdam. To date 50,000 of CO2 tons have been stored in the porous rock at Schwarze Pumpe in Brandenburg. Beeskow, as the first industrial storage site, is expected to store some 1.7 million tons of CO2.
However, Vattenfall faces a daunting political minefield in Brandenburg. The state is governed by a coalition of the Social Democrats and the new left party Die Linke (The Left). The SPD-premier supports
'We have different cultures coming together at different levels'
the project, as does his Minister of Economic Affairs who represesnts Die Linke. However the Minister of Finance, also from Die Linke, is vehemently opposed to it. Most of the Linke-voters seem to support at least continued research into CO2 storage. Nevertheless, Ruth Buder in Beeskow believes 'it will be difficult to convince the public to accept this.' That would not bode well for Vattenfall, because there is one thing that the politicians do agree on: 'Nothing happens without the blessing of the people.'
In Lausitz, by far Brandenburg's and Germany's largest brown coal field stretching almost to the Polish border, the employment of some 15,000 people is directly or indirectly dependent on Vattenfall. For them there is no alternative to the CCS solution. But perhaps their jobs could be safe even if the CCS project was not realised? The recent decision of the federal government to phase out nuclear power could benefit them. In Lausitz they are saying that from the year 2020, the federal government will need every available power source, and then it will matter little whether CCS is implemented or not. In that situation it would be the lesser evil. However that would conflict – currently – with Vattenfall's strategy which does not allow for any new coal-fired power plants without CCS.
Different cultures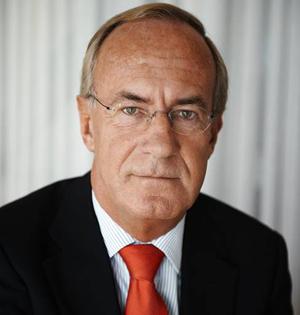 Vattenfall's new Chairman Lars Nördstrom (photo: resume.se)
With government opinion divided (an article in the Svenska Dagbladet newspaper was tellingly entitled 'What does Maud Olofsson want with Vattenfall?), and public opinion somewhat contradictory, the Swedish national champion faces difficult financial dilemma's, but also an ethical dilemma. Peter Norberg, ethics teacher and lecturer at Stockholm School of Economics, puts Vattenfall on the border between the private and public sectors. 'The situation is complex. We have different cultures coming together at different levels.' This is reflected in the bonus issue, with the government demanding restraint, and in company ethics in general, where public expectations are likely to be even higher than those of the government. One possible solution to this problem has been discussed on several occasions: the division of Vattenfall into a Swedish state-owned enterprise and a European private company. The current coalition government, which does not rely on a majority in parliament, had planned to attract funds from private investors for Vattenfall. The opposition prevented this.

Even former CEO Lars G. Josefsson acknowledges there might be an advantage to splitting up the company. The governance rules in the private sector would make it easier to manage a private company. Josefsson sees two options for Vattenfall's European division: to go public or to be sold.

At this moment, Vattenfall's future remains highly uncertain. Last Friday, the Minister for Financial Markets Peter Norman announced that he is proposing Lars G. Nordström (67) as the new Chairman of the company. He is expected to be elected on June 14 at an extraordinary general meeting. A lot may depend on where Nordström will take the company. The first reactions are that he is considered to be 'a safe hand'. From 2002 to 2007 he was CEO of the financial service group Nordea, which includes banks in Sweden, Finland, Denmark and Norway. After that he announced he was looking forward to retirement, but accepted a post overseeing the very complex merger of the Swedish and Danish postal companies. This job he left at the beginning of this year. Now he will 'have a look' at Vattenfall's involvement in coal and green electricity. He has said that 'Vattenfall should be a company of which owner and customer are equally proud of'.