Why Nigeria matters (a lot)
In addition to the crisis in Greece and the fear that Portugal and Spain may be the next to see their treasury bonds reduced to junk status, the world may soon be facing a further worrying rise in dollar-denominated oil prices. One not-to-be-underestimated factor that may push oil prices up is the threat of renewed instability in Nigeria, as the major guerrilla group in the Niger Delta, MEND, looks to be moving back into action after a long ceasefire. After the sudden of president Yar'Adua last week, his successor, Goodluck Jonathan, will be faced with the formidable task of convincing the rebels to lay down their arms and leave the oil industry alone.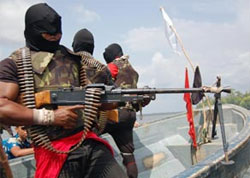 Nigerian militants remain a big threat to oil production and producers.
At first sight, the world's supply of crude oil seems stable and so, relatively, do prices. Crude averaged around $81 a barrel in the first quarter and has moved between $78 and $87 on the Nymex futures exchange in the US. Oil cartel OPEC has seemed quite relaxed about its members exceeding their production quota and crude inventories in the US look pretty high.
This relatively calm oil market picture is replicated in West Africa. At 2.2 million barrels a day (mbpd), Nigerian exports in January were up from the depressing 1.2 million in January 2009. Loadings from the ExxonMobil-operated export terminal Qua Iboe – one of the six export terminals in Nigeria – are scheduled for an average of 412,000 bpd in June, up 12% on May. Liftings from the Shell-operated Forcados terminal are also up, even though there has been a slight fall in liftings of Bonny light crude. Either way, by comparison with the export performance of these light, high-value, low sulphur crudes last year, Nigeria appears to be back as Africa's number one oil exporter, having lost the position briefly to Angola, during 2009.
Current production levels in Nigeria represent the first sustained though modest increase since 2004, when they started sliding from a high of 2.5 mbpd to about 2.1 mbpd in 2008 – with consumption fairly steady throughout at some 250,000 bpd. The recent rebound in Nigerian oil production had a very specific reason: it came about as the direct result of an amnesty between the Nigerian Government and the guerrilla Movement for the Emancipation of the Niger Delta (MEND) in July 2009. Brokered by the then President of Nigeria, Umaru Yar'Adua, who died last week, the deal promised a significant improvement in conditions in the Niger Delta, if the rebels laid down their arms. Since about two months, however, MEND are back in action. They have even said they would step up their activities, threatening for the first time the installations of the French oil company Total. But before we try to assess the country's current political situation, and what it may mean for Nigerian oil and gas production, let's consider why and how much Nigeria matters at all to European and global oil and gas markets.
Light products
Nigeria produces just 2.7% of global oil supplies and 1.1% of gas supplies, according to the BP Statistical Review of Energy. It has 2.9% of global proved oil reserves and 2.8% of proved gas reserves. Europe imports just under 5% of its crude oil and gas from Nigeria. For the US, Nigeria is the fifth largest supplier, providing 7% (some 1 mbpd) of US imports – almost as much as Mexico.
These figures may not sound too impressive, but there is a catch. What matters to the wider oil market, including Europe, is that Nigeria is a major provider of sweet, light crudes. Virtually all Nigeria's oil output is, like that of Qua Iboe, around 35.2° API. As such it is full of the higher value products like gasoline and requires far less high-cost refining to turn into useful products. This is a matter of increasing importance worldwide. It has been calculated that over half the world's supply of crude is now high sulphur, heavy sour material. While globally the demand for high quality light products has been growing and the demand for residual high sulphur products falling, the availability of lighter crudes has been in decline. Another estimated global number suggests that only about 45% of global refining has been systematically upgraded to meet this challenge.
In addition, Nigerian crudes are intimately tied in to the spot and futures market benchmarks, like Brent in Europe and West Texas Intermediate (WTI) in the US. In effect, Nigeria's output is a significant element within the pricing of global crudes, and its supply influences them, while all the rest of the crudes, light or heavy, sour or sweet are discounted or upgraded against them. Indeed, it was partly MEND's activities in late 2007 and early 2008 that set the WTI price off on its march to over $140 a barrel.
Then there is another factor to be taken into account, namely the growing importance Nigeria has for the major western oil companies. Shell, Chevron, ExxonMobil, Total and ENI/Agip are all active in Nigeria. Indeed, West Africa is one of the few regions in the world where the private international oil companies can still get access to major new oil and gas reserves, since African countries need their expertise and capital.
Take Shell for example. In 2009, Nigeria supplied no less than 20% (230.000 bpd) of Shell's global oil production (1.144 million bpd) and 5% of the company's gas production. This added up to 12.3% (281.000 bpd) of 'oil equivalents' (gas and oil together). Nigeria also provided over 20% of Shell's LNG production.
The significance of Nigeria for Shell is not to decline any time soon. For the period 2010-2014, Shell has only one major start-up project on the books in Nigeria, if a big one: Gbaran Ubie, which is scheduled to deliver 250,000 bpd in oil equivalents (mostly gas). However, for the period 2014-2020, Shell is looking for Nigeria to provide no less than 700,000 bpd from new projects. That is more than any other country in the world – more even than Australia and Kazakhstan.
Disruption
So what would the results be if Nigerian production were to slump again, as it did in 2007-2008? Last year, prior to the amnesty, Nigerian exports to the US fell to less than half the 990,000 bpd normally supplied as a result of pipeline destruction. At the time, this seemed unimportant except to the Nigerians themselves. Stocks were high and prices low, while economic activity was only just recovering from the credit crunch. Now however, as Nigerian exports have recovered, a major new offensive by the guerrillas could have a disproportionate impact on both the WTI and Brent price marker crudes, if force majeure in the loading terminals starts to become a regular event again.
In the US, although a great deal of Gulf of Mexico refinery capacity has been upgraded to take much heavier crudes from Venezuela and elsewhere, there is still a substantial amount of refinery capacity dependent on the higher value crudes. Equally, during the summer driving season, the US demand for gasoline is sufficiently high as to require significant levels of imports, reaching over a 100 million barrels, over 50% of which comes from Europe.
For its part, Europe takes around 25% of Nigeria's crude, with the relatively unsophisticated refinery capacity of Spain, France and Eastern Europe taking the largest share. Brazil, India and South Africa are also major importers, largely because of the quality of the Nigerian crude. Thus, any major disruption to Nigerian oil exports will make itself felt strongly in the international oil markets – just as it did in 2008.
Force majeure
How likely, then, is a new outbreak of guerrilla fighting in the Niger Delta? It is a very real possiblity at the moment. The Nigerian oil industry has of course been in difficulties for some time. It was in January 2006 when the guerrilla movement in the Niger Delta, MEND, went public with its first chilling message to the oil companies: 'It must be clear that the Nigerian government cannot protect your workers or assets. Leave our land while you can or die in it. Our aim is to totally destroy the capacity of the Nigerian government to export oil.' The language clearly implied that MEND had been active in pipeline destruction prior to its January 2006 threat and was planning a lot more attacks.
One of the most devastating of these was the MEND-claimed attack on Shell's $3.6 billion Bonga field's floating, storage and offloading vessel (FPSO) on 19th June 2008. The FPSO – one of the world's largest – was 120 km offshore. Previously it had been thought that only installations within 60 km of the shoreline were potentially at risk. The Bonga attack revealed a capacity by the rebels to co-ordinate offshore action with great sophistication. Its impact was to shut in 225,000 bpd of crude production, causing Shell to declare force majeure on deliveries.
Mixed in with this was an attack on the Chevron pipeline feeding the Escravos terminal. This shut in 120,000 bpd, and produced another declaration of force majeure on the following day. A month before in May, lines to the Bonny Island terminal had been a reduction in immediate output of 170,000 bd. September 2008 saw an attack on a Chevron platform, but also a temporary ceasefire that lasted until January 2009.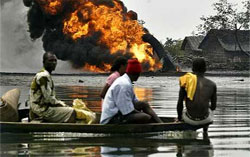 People passing a burning oil pipeline in the Niger Delta.
By May 2009, the Nigerian Government was fighting back with a Joint Task Force (JTF) that reportedly caused the displacement of thousands of people in the Delta. MEND, however, carried on regardless, kidnapping oil workers and attacking pipelines. Between May and July 2009 MEND claimed no fewer than 22 attacks against oil installations. In the disturbingly named 'Hurricane Piper Alpha', it hit installations owned by Shell. Chevron's Okan oil manifold pipeline junction, which, MEND claimed, controlled 80% of its oil production, was blown up. And as if to declare its offshore expertise, in July, MEND captured a tanker 20 miles off the coast from the Escravos terminal. As a result of these attacks, Chevron, Shell and Agip had to shut in 300,000 bpd of production.
Then MEND produced its pièce de résistance. It attacked the Atlas Cove Jetty, which supplies Lagos with its imported oil products, while renewing its demands for the release of one its leaders, Henry Okah, then under a charge carrying the death penalty. This attack, being well away from the normal area of operations in the Delta, was a major potential expansion in the geographical range of the group's sabotage. It also threatened to bring Lagos, Nigeria's largest city, to a halt. It was at this point that then-President Umaru Yar'Adua called for a ceasefire and released Okah.
Events moved surprisingly quickly thereafter. The government declared an amnesty, offering the young rebels 10,500 naira (€53) a month, in return for giving up their arms before October. MEND agreed to a ceasefire until January and many of them, including a leader known as General Boyleaf, came out into the open. This, at least, was progress – but it increasingly appears to have been the high point of the "peace process".
Car bomb
For MEND, the amnesty had never been just about the laying down of arms and a monthly stipend. Their fundamental demand was a radical transformation of the Delta, not least through a major reduction in unemployment amongst young men. They increasingly felt that this demand was not being met and that little was actually happening other than endless conferences. While the Government might have believed that the ceasefire had resulted from the offer of amnesty and the threat of the JTF, MEND believed that it arose because of the threat it posed to Nigeria's oil exports. Thus, MEND ended its ceasefire in late January. It did not claim any attacks, however, until the 15th of March.
Before this attack, Dr Emmanuel Uduaghan, Governor of the Nigerian Delta State, had made the serious mistake of claiming that MEND no longer existed thanks to the amnesty announced by the Nigerian Government and that it had been reduced to "a media creation". The Nigerian media responded to this statement with a healthy degree of scepticism. So did MEND. In an action 'to announce our continued presence', the guerrillas set off a car bomb, a couple of hundred metres away from the Delta State's Government House Annex, in the State Capital Warri, just as Dr Uduaghan and the Governors of Ebo and Imo States were arriving to discuss the matter of what to do about reviving the moribund amnesty. The hundreds of participants of the conference, brushing off the initial bang, were just taking their seats in the hall, when a second bomb went off, this time just outside the iron gates of Government House itself. The various dignitaries rushed for cover and the conference was at an end.
This March 15th, 2010 attack was perhaps remarkable for an event in Nigeria in that it appears to have gone exactly to plan. The conference, bravely sponsored by the Vanguard newspaper, had been given a warning by MEND spokesman Jomo Gbomo that a bomb would go off at the venue at exactly 11.30 am. True to the timetable, it was exactly on time, the second bomb following precisely 10 minutes later. What did not go exactly to plan was the third bomb, which MEND, having reportedly killed eight bystanders already, allegedly decided not to detonate since those fleeing in panic from the second bomb were running directly towards it.
Either way, the point was made that MEND was not a creature of the press's imagination. Ironically, the conference was a meeting to seek some way to sustain the amnesty with representatives from the various Delta States planning to put forward further development ideas. Goodluck Jonathan – then Acting President – had demanded that the Minister for Delta Affairs fast-track all the infrastructure development plans that are supposed to be underway in the region. One notorious example of such development is the East/West road. Going for 337 km through the Delta and a vital thoroughfare for development, the contracts were awarded in 2006 for completion this year. However, it still remains under construction with a new target date of 2012, although one of the main contractors has suggested that it could take another six years, so slow is the money coming from central government.
Temperatures
Hence, at this moment, the future looks highly uncertain for Nigeria, potentially the biggest economy of Africa. Leaving aside the religious and regional differences, political temperatures are high, not least over corruption and extensive wide-scale illegal theft of oil by the political elite; a matter constantly used by MEND as a justification for its actions. Disturbing reports have recently come from the UK Independent's Africa correspondent Daniel Howden, that the young men who gave up their arms are leaving the camps and returning to the jungles of the Delta.
As if to confirm this, Agip announced force majeure on supplies at the Cross River Terminal on April 25th due to a new attack on a pipeline.
Ominously, MEND has now threatened for the first time to attack Total's installations in Nigeria, which produce 9% of Nigeria's crude and 15% of the LNG, mostly destined for the European market. After the Warri bombings the communiqué from MEND read: 'In the coming days, we will carry out a number or attacks against installations and oil companies across the Niger Delta and will spread out to companies such as Total, which have been spared in the past. We hope the actions which will follow will persuade Mr Uduaghan that we exist outside cyberspace.'
The new president, Goodluck Jonathan, is a former Governor of the oil producing state of Bayelsa. Jonathan has the advantage that he is a Christian and a southerner from the Ijaw people of the Niger Delta and knows the area well. He is familiar with the environmental consequences of oil spills having once been an environmental protection officer there. Equally however he is also familiar with its violence, having narrowly avoided assassination in 2007 when two policemen were killed and shortly afterwards seeing his family home destroyed by a bomb. Now, as President, he will have to reach out to convince his fellow southerners that the Federal Government will work towards much greater prosperity in a neglected and polluted region.
Clearly, Goodluck Jonathan will need a great deal of good luck – and so will the world oil market this summer.