Things are better with bootloaders, and since this is especially true for microcontroller development boards we decided to investigate the matter for our SAMD ARM T-Board 150059. It took a bit of time to figure it out, but now that we know how, we have reprogrammed our stock with a bootloader. Here is how to use it.
The bootloader in question is provided by Atmel and is described in
application note AT07175
. Our microcontroller is the SAMD21E18A and to program it through the bootloader you must download and install Atmel's free utility
SAM Boot Assistance
better known as SAM-BA.
Connect the SAMD T-Board to the PC with a USB cable and launch SAM-BA. If all is well it will find the board on a COM port (if not, wait until your operating system finishes installing the driver for the board), select it. From the board drop-down list choose the "samd21_xplained_pro". Leave other settings at their default value and click the "Connect" button.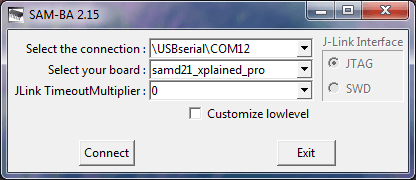 Continue reading at Elektor.Labs...