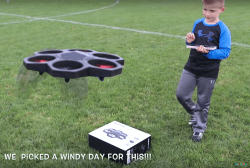 The Airblock drone is the perfect solution for learning, practice and construction of small drones and their programming. Not just entertaining, it is also educational, and teaches kids (and their parents) about aerodynamics!
Transformers become pedagogical tools!
This modular drone, capable of instantly transforming itself into a hovercraft as well as a car, and much more, also allows stunt flying. Try your own moves!
Airblock is the first modular drone, programmable and controllable by phone or tablet, on Android or iOS.
Assembled from instantly interconnected magnetic parts, it transforms easily and quickly, giving free rein to your imagination and your taste for experimentation.
Features:
Modular: 1 main module & 6 dynamic modules with magnetic interconnection.
Programmable: Control and program your fancy flying through the Makeblock App.
Safe & reliable: Light-foamed crash-friendly body. Blades are protected by the module frame. The material used is robust but soft enough to absorb any shocks.
Multiple shapes possible: evolves in the air, on water and on a firm surface, which opens up many possible combinations.
No programming experience required: graphics programming of action sequences using an app.
iOS & Android compatible
Remote control via Bluetooth. The app also supports joysticks.

Other design features
Rise and fall / Advance and Retreat / Steering / Side Flight / Slight Adjustment / Light Control
Special functions: Hover / Somersault / Customizable Stunts
Foms: Six-axis Aircraft / Hovercraft / DIY
Environment to Use: air / ground / water
Dimensions: Six-axis Aircraft [235x54mm], Hovercraft [335x208x126mm])
Flight speed: 0-2 m/s, adjustable
Flight Time: approx. 6 min
Field: 10 m
Altitude: 5 m
Battery capacity: 700 mAh, exchangeable
Magnetic connections
Remote control with Makeblock app (Bluetooth)
Sensors: 6-axis gyroscope / ultrasound / barometer
Scratch-inspired graphic programming