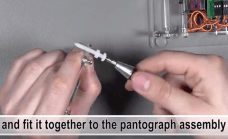 Writing the time every minute – or at any other adjustable interval – into a layer of sand is the star attraction of a cool
project
developed around an Arduino Uno. This video shows how easy it is to build the well-designed gadget yourself from a
kit of parts
provided by Elektor. All mechanical parts, the motors, an Uno, a special RTC/driver shield, a power adapter and even a small bag with sand are included. On the shield, all SMDs are mounted, you just need to solder the provided headers and DC/DC converter on the board.
The
software
for the clock is available as an Arduino sketch. For programming the Uno and first-time calibration of the servo motors (also demonstrated in this video) you need a computer with the Arduino IDE installed. A detailed
construction manual
is available for download.