Being first on the market and packed with all the latest features is considered crucial to the success of a new product. But how do you achieve such a feat? Global technology provider Arrow Electronics has come to the rescue of start-up companies and design engineers with a suite of development boards intended to speed up product development.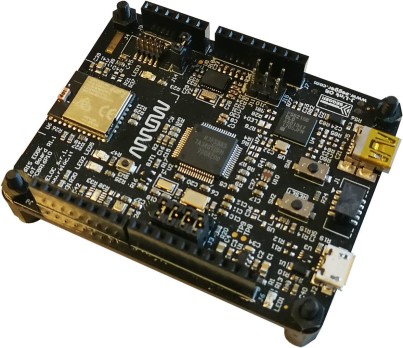 The members of Arrow's ARIS IoT board family are among the most popular Arrow 'dev' boards. Here we present four of them: the ARIS Edge S1, Edge S3, IOT & Gateway Boards. Even better, we are giving a couple of them away! All you have to do is fill in the form to
join the raffle
. Five lucky winners will receive the board of their choice free of charge, no strings attached!
Arrow's ARIS Edge S1 and ARIS Edge S3
The ARIS Edge and Edge S3 are intended as Internet of Things (IoT) edge nodes. Based on a Renesas Synergy MCU (S1 for the Edge S1, S3A3 for the Edge S3), the ARIS Edge boards offer many features that make them suitable for smart sensing and IoT applications. A flexible multi-protocol radio module supporting Bluetooth Low Energy (BLE), Thread and zigbee stacks is available for communication with other devices and the cloud. Board sensing capabilities include temperature, relative humidity, pressure and ambient light level, and motion detection thanks to a 9-degrees-of-freedom (DOF) inertial measurement unit (IMU) with sensor fusion capabilities.
| | |
| --- | --- |
| Brain Edge S1 | Renesas Synergy S1 ARM Cortex-M0+, 32 MHz, 16 KB RAM & 128 KB flash |
| Brain Edge S3 | Renesas Synergy S3A3 ARM Cortex-M4 with FPU, 48 MHz, 96 KB RAM & 512 KB flash |
| Connectivity | USB, multi-protocol radio (BLE, Thread and zigbee) |
| Sensors | Humidity, temperature, 2-axis gyroscope, 3-axis accelerometer |
| Extension | Arduino shield connectors, I²C connector, LCD, resistive touchscreen |
| Programming | JTAG, JLink (+ JTAG for radio module) |
| Power | USB, coin cell |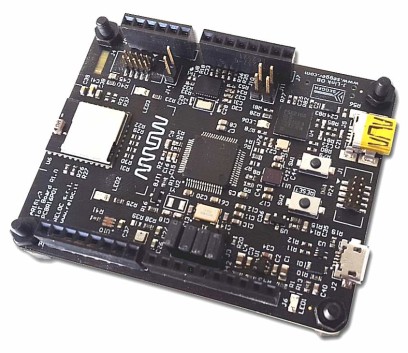 ARIS IoT Board (BLE) and ARIS Gateway (mesh)
The ARIS IoT and Gateway boards are ready-to-use Internet of Things platforms exploiting the Renesas Synergy development framework. Built around a Renesas Synergy S7 MCU with 240-MHz ARM Cortex-M4 core, these boards have a host of features suitable for IoT applications like hubs, gateways, and mesh networks, but they can also be edge nodes. For communication with the cloud and other devices Wi-Fi as well as Ethernet 10/100 are available. The ARIS IoT Board is equipped with a Bluetooth Low Energy (BLE 4.1/4.2) module; the ARIS Gateway features a mesh networking module instead for Thread and Zigbee. Both boards have an NFC tag along with a crypto bootloader and support for over-the-air (OTA) firmware updates. On-board sensors include a three-axis accelerometer, a two-axis gyroscope, and temperature and humidity sensors.
| | |
| --- | --- |
| Brain | Renesas Synergy S7 Cortex-M4 with FPU, 640 KB RAM & 4 MB flash |
| On-board memory | 32 MB SDRAM, 64 MB QSPI flash memory, microSD |
| Connectivity | USB, Ethernet 10/100, Wi-Fi b/g/n, NFC Forum Type 2 tag |
| IoT Board | Bluetooth 4.1/4.2, Bluetooth 5 advertising |
| Gateway Board | Zigbee and Thread radio 2.4 GHz IEEE 802.15.4 |
| Sensors | Humidity, temperature, dual axis gyroscope, triple axis accelerometer |
| Extension | Arduino shield connectors, I²C connector, LCD, resistive touchscreen |
| Power | Barrel jack, USB mini & micro |
More information
Aris Edge S1
Aris Edge S3
ARIS IoT Board
ARIS IoT Gateway
Join the raffle >>