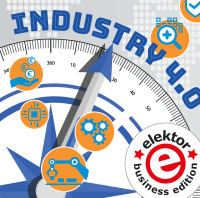 EDA Industry Revenue Continues to Grow
Electronic Design Automation (EDA) industry revenue continues to improve. According to a new
report
by the ESD Alliance Market Statistics Service, EDA industry revenue for the first quarter of 2018 rose to $2308.8 million (or 7.8%). It was $2142.5 million a year earlier. The four-quarters moving average jumped by 9.1%. The Americas region led the way in Q1 2018, purchasing $1024.4 million of EDA products and services. Revenue in Europe, the Middle East, and Africa (EMEA) was $336.4 million. The Asia/Pacific (APAC) region's revenue grew to $699.9 million. Semiconductor Intellectual Property revenue totaled $830.7 during the quarter, while Computer Aided Engineering revenue hit $699.7 million, IC Physical Design & Verification revenue at $472.6 million, Printed Circuit Board and Multi-Chip Module revenue at $193.4 million, and Services revenue at $112.5 million.
M&A Updates
No deal! Qualcomm has scrapped its plan to take over NXP Semiconductors for $44 billion. According to several reports, the deal fell through due to a variety of issues ranging from worries over an escalating US-China trade war to Chinese regulation issues.
Park Electrochemical Corp. is selling its Electronics Business — which manufactures high-tech digital and RF/microwave printed circuit materials — to Tokyo, Japan-based AGC, Inc. for $145 million. According to a release, once the deal goes through, Park will be an "aerospace-only company."
Reminder: Raspberry Pi's Eben Upton to Speak Elektor at electronica 2018
Eben Upton (Founder, Raspberry Pi) will visit Elektor International Media's booth at electronica 2018 in Munich on November 13 and 14, 2018. Plus, Elektor's editorial team will interview Upton at the Embedded Conference on the topic of "Raspberry Pi Goes Industrial." We'll post additional details in the coming days.