With products like Amazon's Echo, Google's OK, voice-controlled Mercedes-Benz cars, and LG television sets — just naming a few — it is clear that the current hype is speech recognition. After connecting every object to the internet, the time has come to add voice control to them. Retrofitting speech recognition to existing objects is possible too thanks to all sorts of kits that have started popping up. Let us therefore have a look at one of these: the Grove Speech Recognizer Kit for Arduino from Seeed.
A look at the box
The wrapper around the box promises — after Chenglish interpretation — that its contents allow the user to quickly master speech recognition and then prototype the Smart Home. Demo projects include playing music or turning on the lights simply by pronouncing the corresponding command. (The wrapper also warns that it is best to keep the kit away from fire.)
What's inside the Grove Speech Recognizer Kit for Arduino?
Opening the translucent green box reveals six small bags, a cardboard box and a manual. An Arduino board is not included. The bags contain:
An infrared emitter module
An infrared receiver module
An MP3 player module
A real-time clock (RTC) module
A Speech Recognizer module
Five 20-cm long 4-conductor cables
The Grove system
Since these modules are so-called Grove modules and the cables are Grove cables, and the kit is for Arduino, it should come as no surprise that the cardboard box contains a Grove base shield for Arduino. So what is Grove?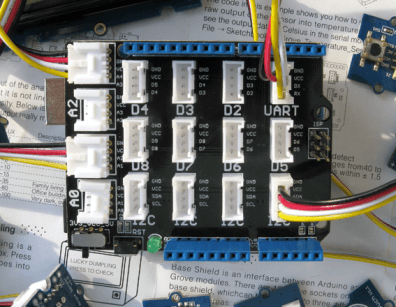 As Seeed puts it: Grove is a modular, standardized-connector prototyping system taking a building-block approach to assembling electronics. A Grove system consists of a base unit, usually a microprocessor, and various modules connected to it by 4-conductor cables with standardized connectors. Grove modules typically address a single function, such as a pushbutton or a heart-rate sensor.