25 years of High-tech on the Olympiaturm, Munich -
an interview with Ernst Bratz from Meilhaus Electronic GmbH

The annual event "Hightech on the Olympic Tower", in Munich, invited to its 25th anniversary and Elektor is happy to have had the opportunity to talk to marketing manager Ernst Bratz about this event on this special day.
Udo Bormann:
For 25 years there has been the measurement event high-tech on the Olympic Tower, what has happened in the meantime and what is the biggest change?
Ernst Bratz: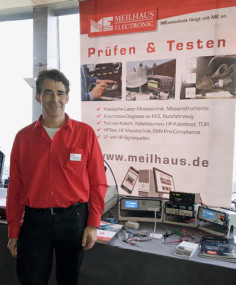 "We started with a few exhibitors with a focus on measurement technology. In the meantime, the event has become broader and includes automation, testing, and high-frequency technology, among other things. There is a little anecdote about the history of the tower. For a long time, there was the event "Messtechnik Süd" down in the Olympiahalle. Our managing director Mr. Meilhaus always saw the tower from there and said: "It would be very attractive to organize an equivalent event up there! The contact between Meilhaus Electronic and the revolving restaurant of the Olympic Tower was established and thus synergies developed which led to the implementation. For a long time, both events ran parallel until the trade fair was discontinued in 2001. So, we had to ask ourselves the question: "Are we going to continue? As you can see today, we took the risk and can now look back on 25 successful years".


UB:
How many exhibitors are there this year?

Ernst Bratz:
"This year we have 12 exhibitors and over 30 companies represented by distributors plus our own tables. Most of the exhibiting companies are long-term partners of ours, some of them are distributors. These partners are invited to participate in the event every year".


UB:
In addition to Meilhaus as an organizer, are there any other exhibitors who took part every year?

Ernst Bratz:
"Plug-In and Keysight were already represented from the beginning (Keysight at that time still as HP and/or Agilent). MCD and Pico have been there for a long time. Others like erfi or Siglent only joined in the last years".
---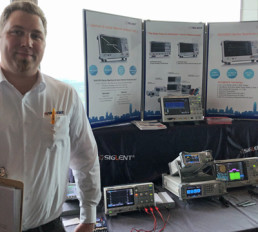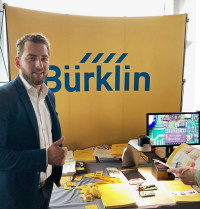 ---
UB:
Above all, new innovations and products will be presented here. Also, a reflection of the good cooperation?

Ernst Bratz:
"Here at the high-tech in the Olympic Tower, the focus is clearly on innovations, which will also be presented in specialist lectures. We do not want any marketing presentations and in order to guarantee this, we also brief the speakers and co-exhibitors. It's only 20 to 25 minutes, but of course, we try to get deep into the subject in these presentations.
The diversity of the lectures is increasing, this is also due to exhibitors such as MCD and Plug-In, who have and present the corresponding products so that topics such as embedded and automation are given a higher priority".

UB:
What are you particularly proud of?

Ernst Bratz:
"It's nice to see that so many very interested visitors come into conversation with our exhibitors, who can only spend a short time at their stands at other trade fairs. Here they can really take the time to exchange ideas with the individual exhibitors. Some stay 3 hours or longer in the tower to have a look at data sheets and technical refinements in detail, to listen to the lectures and to have in-depth technical discussions with the respective exhibitors. And that's the beauty of the event, that you really have the time to do it. I hope that this character will be maintained in the years to come and that people will continue to accept the event so well!

UB:
Since you have just addressed the visitors: There are also some exhibitors from overseas, a positive development that measurement technology is being discussed globally?

Ernst Bratz:
"The event itself is usually attended by guests from German-speaking countries. Most of them travel from Bavaria, Baden-Württemberg, Hesse and occasionally as far as Berlin or Hamburg. Opening the event to an international audience makes no sense now. The Olympic Tower also offers only limited space. (Laughs) But the suppliers and companies are inevitably international, which is why some of the lectures are held in English.

UB:
And this is also accepted by the audience?

Ernst Bratz:
"Yes, we have experienced that this works quite well in the technical area."

UB:
Let's go a little deeper. What does it look like within your company, shortage of specialists/growth forecast/future concepts?

Ernst Bratz:
"We also know the personnel problem ourselves. We have currently hired some new employees, but an intensive search was necessary. From an overall economic point of view, things are going very well, and I hope, of course, that they will stay that way. We, too, are partly dependent on the automotive industry. However, our advantage is that our clientele is very broadly diversified. In addition to the automotive industry, we have customers in universities, industry, test laboratories and automation in general. That is why there is always somewhere where things are going well. So, if one area 'weakens' something, then another area usually compensates for it."

UB:
Last but not least: Will it be there again next year?

Ernst Bratz:
"I guess so. There is always the renovation of the Olympic Tower in the room (laughs) but basically, nothing speaks against it."