Despite large interest in the Internet of Things (IoT), few companies have been able to demonstrate concrete successes. SAS conducted a survey of the expectations of IoT early adopters and the challenges they face. Among other things, the results show that real-time data analysis is regarded as the biggest challenge. In addition, many organizations are not yet ready for the altered ways of working required for IoT implementation.
The SAS survey [1] gives some examples of organizations which say they are "making progress" with the implementation of IoT in their operational management. What do businesses actually want to achieve with IoT? About 20 percent of the respondents said that projects related to the connected customer concept were their highest priority, followed by self-diagnostics (17%) and asset tracking (16%). All of these require a large number of data analyses to be performed in a short length of time.
Another interesting finding is that many businesses expect both customer benefits and operational benefits from specific IoT projects. That can be seen from the fact that "operational efficiency" (43%) and "better user experience" (36%) are at the top of the list of expected results.
Key challenges
The study also shows that IoT implementation creates significant headaches in both technological and management terms. This is illustrated by the three key challenges mentioned by the participants: real-time data analysis (22%), security (22%), and bringing about a culture shift (20%).
"In order to fully exploit the potential of IoT implementations, activities must be organized differently and processes must be restructured," says Mathias Coopmans, Business Development Manager at SAS. The challenges faced by the early adopters do not come as a surprise. "Operational management must be supported on the basis of real-time data analysis. Due to the enormous volume of data and the efforts necessary to process that data effectively and securely, this is indeed not a simple task."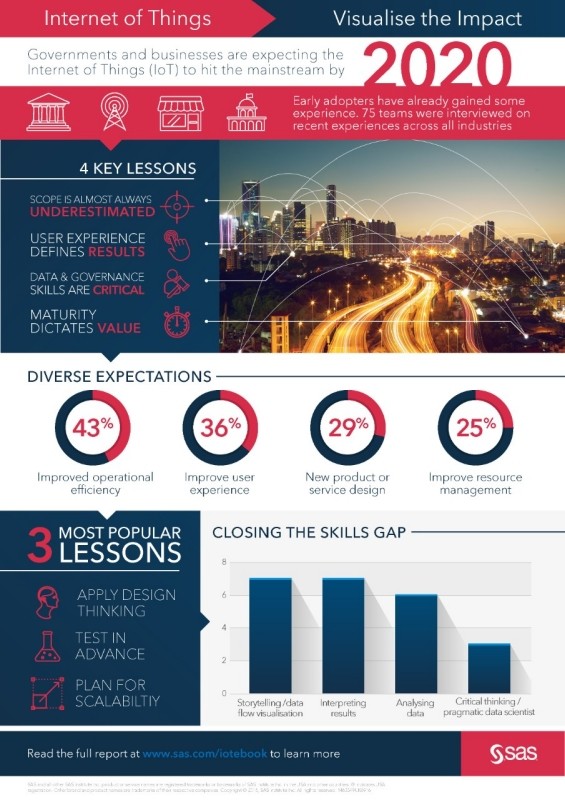 New skills
The technological challenges and the culture shift needed to obtain real benefits from IoT demand new skills. Surprisingly, the respondents did not rank the skills of internal data scientists among the top five things that are useful for the implementation of IoT applications. Most of them mentioned collaboration with external consultants (15%), with process automation in second place (13%).
"Many managers realize that developing internal skills takes time and that the IoT development cannot be put off until businesses are ready for it internally. However, it is important to devote attention to long-term strategy in order to define a stance for outsourcing of expertise versus developing internal staff," emphasizes Coopmans.
Survey and report
SAS conducted the survey "Internet of Things: Visualise the Impact" amongst respondents from 75 companies in nine industrial sectors, ranging from manufacturing to the public sector. This also shows the broad potential scope of IoT. The full survey report can be downloaded for free at [1], with the compliments of SAS and
Elektor Business Magazine
.
Web Link
http://www.sas.com/gms/redirect.jsp?detail=GMS40059_63337