National Instruments Week 2018 (May 21 through May 24) is an international conference for engineers, academics, and electronics industry executives working on innovations in the areas of control, test, and measurement systems. In addition to a wide variety of training and technical sessions,
NIweek
includes an exhibition where more than 100 companies are showcasing a wide variety of products and solutions, from motion control systems to test and measurement applications.
A few highlights:
Mazda's
Tomoyuki Adachi explained that the company developed an in-house automated test. Using NI technology, the auto manufacturer cust costs and reduced engineering time: "Man-hours related to the accompanying manual operations and result judgement were both reduced by 90%, resulting in hundreds of millions of yen saved per year."
David Reed of
NXP
talked about the future of radio technologies. He described how the company is prepping for the future by developing 5G massive MIMO solutions using the NI Semiconductor Test System (STS). Reed: "Someday every semiconductor will have a radio either on it or in it."
Mark Keith of
Honeywell Aerospace
talked about deploying testers worldwide and the challenge of developing a standardized testing system. Using NI technology, the company reported reduced testing costs by 40%.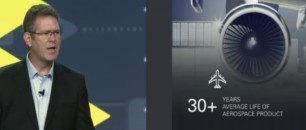 Joby Aviation
discussed an electric vertical takeoff and landing (VOTL) plane that can of transport up to four passengers 150 miles on one charge. The company already has a working prototype. In February, the company raised $100 million, which brought its total financing up to $130 million.
Liquid Instruments
demonstrated it Moku:Lab all-in-one sense and measurement platform. With just one Moku:Lab unit, an engineer has the benefit of several instruments: oscilloscope, spectrum analyzer, waveform generator, phase meter, data logger, and lock-in amplifier. Each is controlled via an app on an iPad.
More to come …