The line-up for the global competition, the NXP Cup 2019, is now ready with record-breaking participation of 160 teams this year.

The contest is now bigger and more international than ever. After the consistent participation of teams from European nations, participants from the middle east and Africa are now in the game as well!
The NXP Cup fever is now all over the EMEA region and becoming a champion, surely won't be a piece of cake.
The participating nations from the EMEA region are as follows:
Germany, France, Italy, Switzerland, Czech Republic, Greece, the UK, Morocco, Lebanon, Jordan, Kosovo, Ukraine, Poland, and the Netherlands.
With hardly any technical limits on the table, the participants have to opportunity to make the car as smart as possible and go head-on against each other in 4 disciplines instead of just one.
The schedule for the internationally held qualification round is as follows:
*March 8 - Casablanca, Morocco
*March 19 - Paris, France
*March 21 - Ostrava, Czech Republic
*March 27 - Munich Kirchheim, Germany
*March 30-31 - Beirut, Lebanon
*April 5 - Bucharest, Romania
The finals will be held at the Fraunhofer IIS from 29th to 30th April in Erlangen, Germany.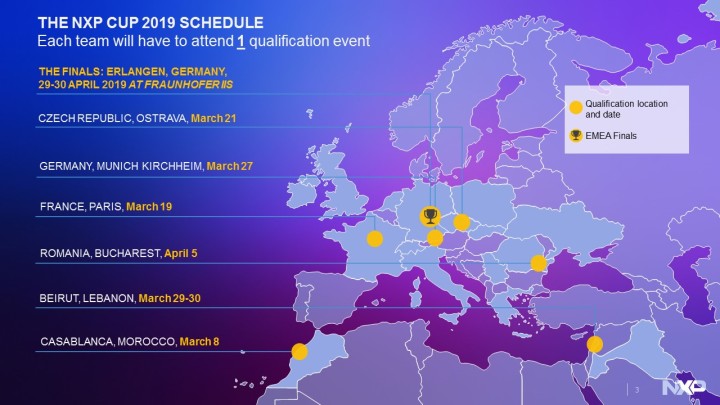 After a successful partnership for the previous NXP Cup, Elektor International Media is again on the scene this year to support the entrepreneurial spirit in the students today, who are the engineers of tomorrow.
For more details about the NXP Cup 2019, click here.