Back in 2013 we first saw the PowerUp 3.0 launched on Kickstarter. The tiny motor and receiver clips onto a paper aeroplane which can be flown using a smartphone app. The team are now back with a substantially upgraded product. The new PowerUp FPV is a result of collaboration with the drone manufacturer Parrot. It features live streaming so that you can First-Person-View the aeroplane's progress on a hand held or Google Cardboard mounted smartphone. A Wi-Fi link takes care of streaming and control information.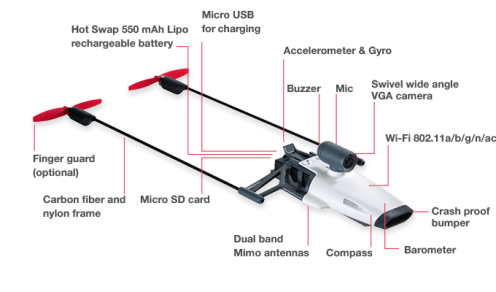 Advanced flight control options allow you to fly the plane using full autopilot mode or autopilot assist which steps in when it detects unusual attitudes or crashes. When the phone is head mounted the plane responds to head movements so that head up feeds in full power while head down reduces power to idle and tilting left or right produces corresponding left or right turns.
Their
Kickstarter
campaign is due to end in January but they have already managed to secure over three times the original target. A pledge of $159 gets you 1 x PowerUp FPV module, 1 x battery and a cardboard viewer. Flight times are around 10 minutes on a single charge.