Michael Keating (Founder and CEO,
Scoot Networks
) says his company is "building the subway for the 21
st
century." He recently told us the story of founding a shared electric mobility company and explained how new electric vehicle (EV) technology is driving mass adoption.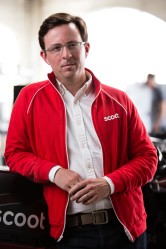 C. J. Abate: A bit about you. You studied art and urban design in the late-1990s and early 2000s. So how did you end up running a shared electric vehicle service?
Michael Keating: I grew up in a city and started riding the subway at 11. Later in life, I studied Urban Planning at Harvard and learned a great deal about how mobility can define a city. My instincts told me that urban mobility and congestion could be improved through providing a shared network of vehicles. And if those shared vehicles were light electric vehicles, we could further reduce noise, danger, and pollution. From these thoughts developed the idea for Scoot.
C. J.: What is Scoot Networks? What's your business model? How does it work?
Michael: Scoot is the original shared electric mobility company that partners with the world's most densely populated cities to deliver fast, fun, and affordable transportation. We operate networks of shared electric vehicles that are picked up and dropped off anywhere in the city, including electric motor scooters, electric bikes, electric kick scooters, and electric mini cars. Riders download the app, sign up, and get oriented to ride. As riders they have access to hundreds of shared electric vehicles that they can ride point to point in their city starting at about the price of a metro ticket and far less than an Uber or taxi.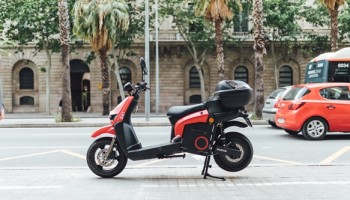 C. J.: Where are you operating? Can anyone download the app and start riding?
Michael: Scoot was founded in San Francisco in 2012 and currently operates a fleet of more than 650 scooters, with an additional 500 being added to the fleet this summer. For our initial 2018 expansion, we are rolling out 1,000 e-bikes and 500 electric scooters in Barcelona in June 2018 and expect to have tens of thousands of vehicles globally in 2019. Yes, anyone 18 years or older can download the app and sign up for Scoot. Riders can then reserve and unlock a vehicle via the app. Helmets are provided for our motor scooters and training is offered both in-person and through a series of online videos.
C. J.: Who are your customers? What about an average customer?
Michael: Our riders are urbanites who use Scoot to get to work, run errands, and get wherever they need to go. They are teachers, bakers, engineers, artists, students, and parents. Some riders are couriers and deliver for restaurants on our scoots. Others just scoot for fun on the weekends. The typical rider is between 21 and 35 years old.
C. J.: San Francisco makes sense. But why Barcelona? It's a wonderful city, but I wouldn't have guessed it as your second city.
Michael: Barcelona was selected as our second city because of its vibrant motorbike and bicycle culture, beautiful weather, and forward-thinking local government. While Barcelona has always had a strong scooter culture, the city has also invested heavily in bicycle infrastructure, including extensive dedicated bike lanes and bike racks. We are excited to finally bring Scoot to Europe, and to demonstrate how shared electric vehicles are the most valuable and the most scalable form of urban mobility.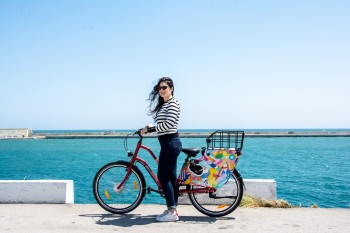 C. J.: Let's get to the tech. What sort of vehicles do you use? Can you tell us a bit about the "light electric vehicle" (LEV) technology?
Michael: Most importantly, we are multimodal. We offer scooters, e-bikes, quads and are now exploring the very popular kick scooters. The goal is to provide the vehicle you need, when you need it. We choose particular vehicles to meet the needs and desires of our customers in each city. These are the vehicles we currently operate in SF and Barcelona:
Silence scooter in Barcelona: 80 KPH top speed, 100-km range, seats two people. Proprietary in-house designed electronics package to provide 24/7 monitoring of the vehicle systems and sensors.
Custom designed eBike in Barcelona: Electric assist up to 25 KPH. Locking system for securing the bike to public bike racks to prevent theft and promote organized parking. Proprietary in-house designed electronics package to provide 24/7 monitoring of the vehicle systems and sensors.
Genze scooter in San Francisco: 30 MPH speed, 25-mile range, one rider. Proprietary In-house designed electronics package to provide 24/7 monitoring of the vehicle systems and sensors.

Genze scooter in San Francisco.
C. J.: What has changed about LEV technology since you launched Scoot in 2012?
Michael: Everything. Scoot is the original electric mobility company. Scoot helped to develop the industry as it developed a business. Early vehicle and battery technology were not well developed. Scoot hastened the path of development for vehicle OEMs by providing ridership and access to data. Now we see exciting new vehicles and a massive improvement in battery technology and cost that are pushing the industry beyond the tipping point into mass adoption.
C. J.: What's been the hardest part about launching and running Scoot? Finding investors? Building the partner network of garages, manufacturers, and maintenance providers?
Michael: Different chapters of the company have seen their own challenges. One of the largest being limited battery technology in the company's early years. Our newest scooters have 5× the range of our first scooters. Another area of business that we are constantly investing in is city permitting — helping regulators understand new mobility services like Scoot and working with them to adapt parking rules to these new, green services their citizens want to use.
C. J.: What's next for Scoot? Another city?
Michael: Scoot is building the subway for the 21
st
century. It goes from anywhere in the city to anywhere else as fast as a taxi, as affordably as a bus, and as quietly as a bicycle. Every city in the world is getting one. They will make us healthier, wealthier, and happier. In just a few years, we will not be able to imagine cities without them. In the coming year, Scoot will expand to more cities in Europe and the Americas.
---
Editor's note: The complete interview will be published in
Elektor Business Edition 4/2018
, which is slated for publication in mid-July 2018.
---
Click here
to read more Elektor Business interviews with interesting electronics industry executives, thought leaders, and engineers.