Exquisitely timed for the upcoming European Football Championship, OSRAM have released the LIGHT CHAMPION, a 12-V car headlamp that produces the German flag colors. The lamps are available from Amazon starting 15 May till the end of July. The lamps are ECE certified and approved and come in two versions: H7 (type 64210LCG) and H4 (type 64193LCG). OSRAM say in their press release that "the effect is best with front lights with reflector technology without a cap in front of the lamp." Switched off, the lamps produce a subtle reflection of the flag colors black-red-yellow, while in operation they produce "a neutral color tone with up to 30% more light intensity than standard halogen lights".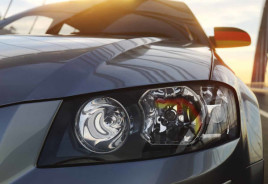 The black, red and yellow bands on the top end of the lamp are said to not affect the color temperature, hence the ECE approval. Apart from the colored bands there is little technical innovation to gather from the German-only
datasheets
of the LIGHT CHAMPION H4 and H7 lamps. The H7 lamp outputs 1500 lumen at 55 watts nominal power consumption, and the H4, 1650/1000 lumen for 60/55 watts from the battery.
The lamps are cheaper than any stadium ticket: 2 pcs H4 for €29.99, 2 pcs H7 for €39.99. And before I forget, I am a total football agnostic.