PeakTech is a name well known in the electronics maker community as a supplier of inexpensive multimeters and general purpose lab equipment. I already have a multimeter bearing the PeakTech label so I was quite interested in their handy P 8200 Measuring Accessories Set which is a zip-bag filled with a useful range of test accessorires — you know what they say — there is no such thing as too many test leads.
It's not unusual for me to have a couple of PSUs, a scope and three multimeters on the bench together all analysing a circuit that I'm working on. More often than not I run out of cables and need to improvise with some flying leads and croc clips. The resulting rat's nest of cables ends up being really untidy and makes it difficult to work out which is connected to what. It can lead to unreliable circuit operation (contact resistance, poor insulation) and can even be dangerous when the circuit uses high voltage. When I saw this pack of test leads it didn't take me long to realise this could solve my problem.
It comes in a box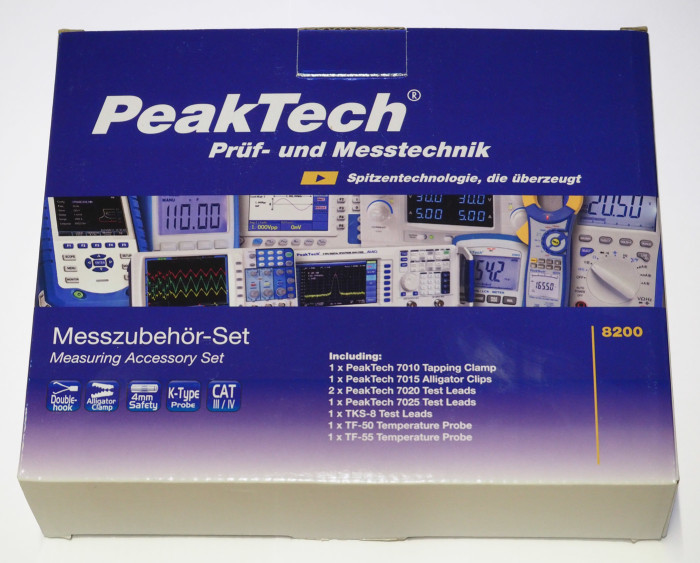 Inside the blue box shown above is a black bag with a zipper all around so that both sides of the bag open out flat on the bench, inside are bands of Velcro to securely hold the individual leads.
This is clearly a neater way to store them rather than loose in a drawer where they always seem to end up knotted together.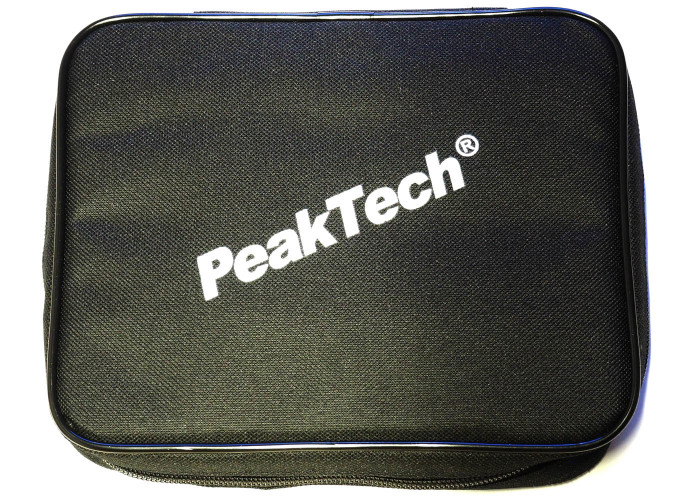 What's in the bag
The storage bag is not essential but I found it a reasonably practical and neat storage solution.
The contents of the measuring set includes:
PT 7010: 2 test probes with spring-grippers (red & black) for 5 A max.
PT 7015: 2 large high-current crocodile clips (red & black)
PT 7020: 4 connection leads with 4 mm connectors (2 red & 2 black)
PT 7025: 2 stackable connection leads with 4 mm connectors (red & black)
PT TKS-8: 2 test probes with tip-shrouds and leads with 4 mm plugs (red & black)
PT TF-50: Temperature sensor with open K-type thermocouple measuring bead
PT TF-55: Immersible K-type thermocouple temperature sensor