The
Touch Board Pro Kit
is delivered in a pretty box the size of a large book. When I say 'large' I mean one of 500 pages or more. Don't panic, this comparison is just to give you an idea of the size of the package, not to scare you – on the contrary in fact. This kit makes you want to get into it straight away. It's aimed at creative people, who want to want to innovate with electronics, using primarily hearing and touch. This means electronics enthusiasts, educators, industrial designers and artists, professional and amateur.
Interfacing for immediate interactivity
As the kit describes itself, it marries programmed electronics (Atmel ATmega32U4) and touch sensors for immediate interactivity. "Make interactive projects in no time, whether you're a designer, engineer, or creative" says the sub-title of the instructions.
This does not come from the USA nor China, but from London. The company
Bare Conductive
works with 'electric paint' or conductive ink which enables electr(on)ic circuits to be made on unorthodox media. So it is logical that our kit (click the photos to enlarge) contains – firstly but not only – some
conductive paint
, in a tube and in a pot, a roll of self-adhesive
copper tape
and some printed sensors.
If like me you can easily imagine what the ink and adhesive copper tape are for, the
A5 Printed Sensors
will no doubt leave you perplexed.
These
A5 Printed Sensors
are simply sheets of paper on which have been printed , evidently with the famous conductive ink, geometric networks of lines (photo opposite). We'll discover what they are used for a bit later, while experimenting.
The conductive ink is a type of water-based paint, non-toxic, which lets you create tracks, contacts, switches etc., on any sort of material, from glass to fabric, by leather and cardboard. Like any ordinary paint, it can be applied easily with all kinds of brushes, stencils, silkscreen or directly from the tube. It dries quite quickly.
Surface Resistance
One must take account of the limitations imposed by the intrinsic resistance of this unique conductor. Higher than that of our more common conductors, it does not take high currents well. The recommended range of voltage is up to 12 V DC, but is that a restriction?
It is interesting to note that the resistance of the conductive paint (55 Ω/square (printed) and 32 Ω/square (brushed)) is not related to the painted area in the same way as the resistance of a more conventional materials is related to its dimensions. This leads to some interesting experiments; it is well described in the
application notes.
Color and rigidity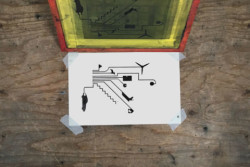 Remember also that in addition to its conductive function, the resistance of this ink or paint allows it to be used for potentiometer functions.
Its mechanical flexibility will depend on the thickness of the layer, its composition and the nature of the support medium.
The color of the ink is black, but once it has dried it may be covered with any acrylic paint of a different color, which can also act as an insulator between layers of conductive ink. This opens unlimited possibilities (but not that of inkjet printing).