The intermetallic compound (IMC) thickness is a key parameter for determining the quality of a solder joint. When it is too thin, less than about 0.25 µm, the joint is "cold"; when it is too thick, 4 µm and more, it is brittle. The optimum IMC thickness is around 1 µm.
Solder joint quality
Currently the quality of solder joints is mainly determined by visual inspection but Metcal has developed a method to make the soldering iron do it instead.
Connection Validation (CV)
, as the technique is called, provides immediate visual feedback about the quality of the solder joint during
soldering
.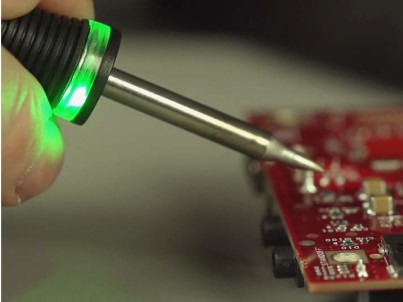 Placing the soldering iron's tip on the joint to solder creates a power demand, indicating the beginning of a solder event. The system monitors the power demand until a change is detected, indicating the completion of the thermal bridge. At this point the solder has become completely fluid.
The system now calculates the intermetallic compound (IMC) thickness as a function of temperature and time. The cartridge ("soldering iron") lights up green when the correct IMC thickness of about 1 µm has formed. Any error occurring during the process is signalled by a red light.
Update from Elektor Editor Jan Buiting: @
productronica 2017 in Munich. I personally tested the system. The result: perfect solder joints for SMD as well as TH parts. This thing is packed with parameters and intelligence.