ValCUN is making metal 3D printing affordable with their disruptive technology. The Belgian technology start-up expects to hit the commercial market in Q2 2021 with their print service for aluminium parts.
ValCUN will add an extra dimension to metal 3D printing. So far adoptation of by metal printing in the manufacturing market has shown to be slower than predicted, mainly due to the limited economical competitiveness of the technology. It is ValCUN's mission to change this!
The ValCUN team has ambitious plans for 2020. They are setting up several projects & partnerships with research institutes, suppliers and potential customers and plan to double their team by the end of the year in order to speed up the process.
Call for applications
Initial focus is on near net shaping of aluminum applications that benefit from its material properties. Aluminium alloys are the favorably weight-to-strength ratio, high electrical and heat conductivity. Ranging from prototype up to small serial production outlook are currently in scope.
Currently a several cases are defined where ValCUN creates added value. The search for new cases will not only extend the customer portfolio, but will also further challenge the technology.
One of the business cases for small serial production, combines heat transfer with structural framing: a diving camera housing. Aluminum is key material for this application for the low weight, to stand the diving depths, corrosion & salty seawater and to remove generated heat. Today, the thin walled casing is manufactured by subtractive manufacturing process, with material waste up to 96%. ValCUN technology reduces both material waste and manufacturing time, showing an overall cost reduction.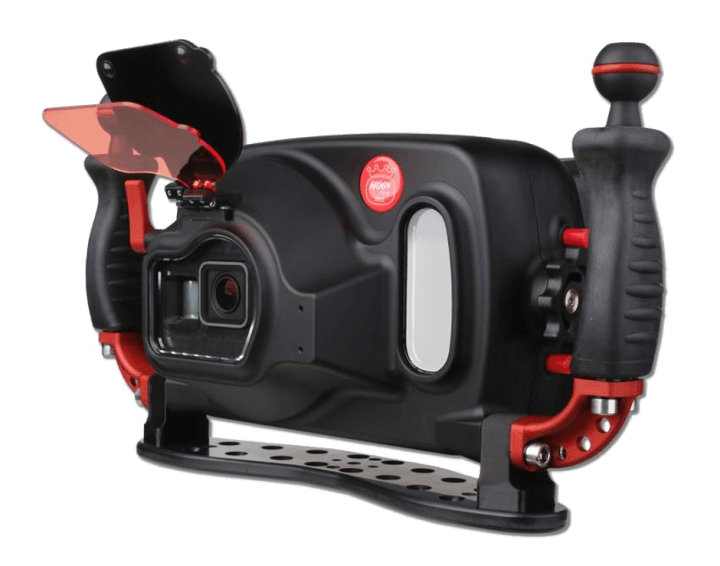 One of the first commercial applications: final product a diving camera case that combines the battery&camera cooling and underwater pressure resistance function.
Outlook and future capabilities
Plans already exist to extend towards other materials such as copper and aluminium-copper alloys. These materials are in focus of the current target application. The gradual transition from aluminum to copper will also allow hybrid part manufacturing: combining of materials or printing on top of half fabricates which leads to improvement of the properties within the final product. This can be useful to force the heat dissipation into a certain direction without the need for assembling different components.
Interested in more information? Contact us!
Jonas.galle@valcun.be
Jan.depauw@valcun.be
Mohsen.saadatmand@valcun.be

www.valcun.be