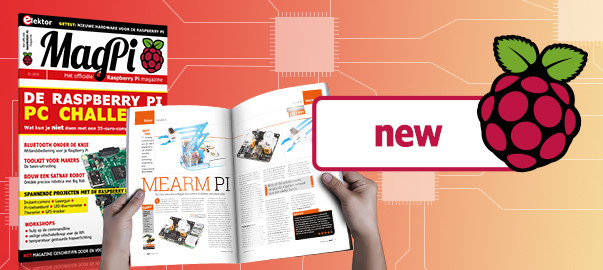 Great news! Elektor is proud to announce the launch of the Dutch and French editions of MagPi magazine!
MagPi magazine is written by and for the Pi community. It is aimed at enthusiastic electronicists keen to know all the latest about the world's smallest computer.
MagiPi magazine's first edition comes hot off the press on 15 March 2018 with a large print run of 10,000 copies. MagPi magazine has 100 pages and is on sale at all book and magazine stores in the Netherlands, Belgium and France and of course in the Elektor Store.
The new Dutch and French MagPi edition gets a promotion boost not just in social media and on websites, but also through a special MagPi mini edition! Elektor distributes a copy of the MagPi mini edition to 25,000 Dutch and French Elektor members!
Exclusive Introduction offer:
If you are keen to give your product a promotion boost, then book your ad now in the
MagPi magazine
and receive 10% discount.
This PDF
file
contains information about the upcoming edition and the extensive advertising facilities offered by
MagPi magazine
.
To take full advantage, please contact us now. We take pride in being able to offer a wide range of services individually tailored to your specific requirements. We can be reached at any time by email, telephone or via Skype.