This easy-to build heat detector does not consume power when idle and therefore does not need batteries that have to be replaced every few years. It consists of a thermal switch in series with a indicator/buzzer connected to the mains voltage. When the temperature is below the thermal's switch trigger value the circuit is open and the buzzer does not sound. When the temperature rises above the thermal's switch trigger value the switch closes the circuit and the buzzer beeps.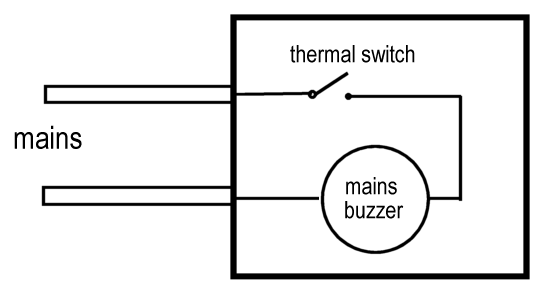 The thermal switch (also known as thermal protector or Klixon) can be found for different temperatures and is used in for instance many sorts of household equipment. Commercial heat detectors start at around 50°C so you may want to choose a suitable temperature.
The indicator/buzzer is a ready-made module that blinks and beeps when it is connected to the mains. As an example we can mention the AD16-22SM which exists in different colors.