Robolab
Mindstorms five years on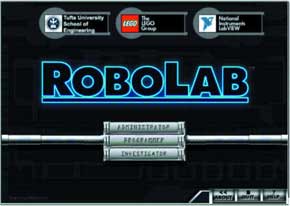 Back in 1998 the Danish toy manufacturer LEGO introduced its radical MINDSTORMS kit featuring the RCX programmable brick. Much effort and expense had been invested in its development and success was by no means certain. As it turned out the kit was well received and the concept was so well thought-out that research and educational establishments began buying them as well.When it comes to choosing high-tech computer games for children, today's parents are often put off by their negative aspects and see little educational worth in achieving, say, the next level up in a role playing game (RPG, see Elektor Electronics January 2003). Maybe they are nostalgic for a time when they themselves built things together with their own parents using Meccano or spent hours tinkering with a train set. In 1998 when LEGO introduced Mindstorms we suddenly had a toy that could both entertain and educate. The slogan that LEGO used at the time was 'simple programming — even for adults' and in fact this was literally true for many parents who were introduced to the possibilities of robotics and software for the very first time.
Downloading of this magazine article is reserved for Elektor Members only.
Already a member? click
here
to log in.