Interference-free Sound
Mains filter for clean audio power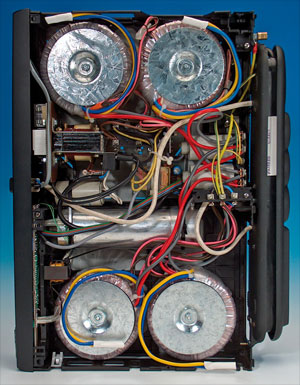 When listening to your favourite CD, any audiophile will at some occasion realise that the CD concerned used to sound better during the previous listening session. Or perhaps just the other way around. The cause for this difference in quality cannot be directly traced to one of the carefully assembled chain of audio components and saddles the listener with a feeling of uneasiness. To exclude all technical causes we need a decent mains filter, which at the least ensures that nothing can be blamed on the very beginning of the audio chain, the power supply.
Downloading of this magazine article is reserved for registered users only.
Login
|
Register now!
Resistors
R1 = 22Ω 1W
R2 = varistor 250 V, e.g. Epcos S14K250, see [3]
Capacitors
C1 = 303.3 µF 250 VAC, e.g. type B32360A4305J080 from Epcos, see [1]
C2 = 10-15 µF 250 VAC, e.g. B32360A2106J050 or B32360A2156J050 from Epcos, see [1]
C3 = 20-25 µF 100 VAC, see [4]
C4 = 100nF 250 VAC X class capacitor
Miscellaneous
L1 = 3-4 mH 50Hz choke, e.g 4EM4700-0CB00 from Siemens, see [2], p. 24.
F1, F2 = fuse, 5AT (slow)
TR1, TR2 = mains transformer, primary 2 x 115 V, secondary 36-50 V; 300-500 VA