ECIO40 and USB
Connect a PIC to USB within 10 minutes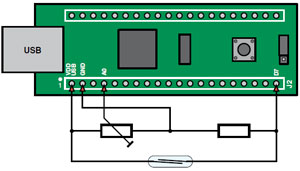 Analogue and digital signals can be measured easily using an E-blocks ECIO module. With the right drivers it becomes a simple matter to read these values on a PC via a USB link. In this article we show how this can be implemented within 10 minutes.
The ECIO40 is a modern 18F4455 PIC microcontroller mounted on a mini PCB and includes an integrated USB bootloader. You can therefore program the ECIO40 without the need for an expensive programmer. All you need is a spare USB port on your PC and a small (free) program. The ECIO40 module is available from the Elektor Shop.
Downloading of this magazine article is reserved for registered users only.
Login
|
Register now!
Quick Specifications
- ECIO modules available from Elektor
- Works under Windows XP and Vista
- No power supply required; it uses the USB supply
- Connected within 10 minutes
- USB driver generated by Flowcode
- Simple communications via HyperTerminal