Caught in the Ring Light
LED Ring Light for close-up camera work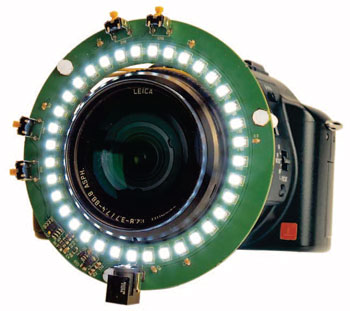 This Ring Light is an illumination source used with webcams, microscopes and photo cameras. It is mounted around the lens to provide an even illumination when a subject is very close. Ring lights are commonly used for portrait or macro photography, or to illuminate objects under an inspection microscope. Here we build a powerful ring light ourselves from a kit of parts.
Downloading of this magazine article is reserved for Elektor Members only.
Already a member? click
here
to log in.
COMPONENT LIST
LED Ring Light
Resistors (0805)
R1-R5 = 10kOhm
R8 = 1Ohm, 0.33W
(R6,R7 not implemented)
Capacitors (0805)
C1-C8 = 100nF
C9-11 = 10µF
Inductors
L1 = 4.7µH (TDK NLCV32T-4R7M)
Semiconductors
D1-D36 = Cree PLCC4 (CLA1B-WKW)
U1 = MIC3289-24YD6
U2 = PIC12F683-E/SN, programmed
Miscellaneous
K1 = mini DC adapter socket
SW1-SW4 = push button
PCB # 129003-2 [1]
COMPONENT LIST
LED Tester
Resistors (0805)
R1-R3 = 330Ohm
Capacitors (0805)
C1-C4 = 100nF
C5-C7 = 22µF
Inductors
L1 = 4.7µH (TDK VLS3012T-4R7M1R0)
Semiconductors
D1-D4 = LED green (Osram LP T67K-E1F2-25-Z)
D5 = RB160M40
U1-U4 = 74V1G66
U5,U6 = 74V1G14
U7 = NCP1400A
Miscellaneous
K1 = Battery clip (BHX1-1225-PC)
COMPONENT LIST
PWM Dimmer
Resistors (0805)
R1,R2 = 10kOhm
R3,R9 = 470Ohm
R4-R7 = 1kOhm
R8 = 4.7kOhm
Capacitors (0805)
C1,C5 = 100nF
C2 = 47µF
C3 = 10µF
C4 = 220nF
Semiconductors
D1 = MBRS140
D2 = MMBD4148
D3 = BZT52C5V6
Q3 = RFD16n05LSM
U1 = OPA2170
Miscellaneous
K1,K2 = screw terminal block
P1 = potentiometer (Panasonic EVU-E2JFK4B53)