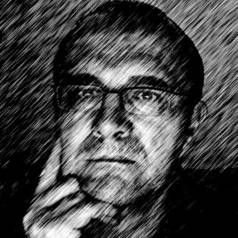 on Audio/Video/Photography
Published in issue 7/2016 on page 62
Supra 2.0
A super low-noise MM/MD phono preamp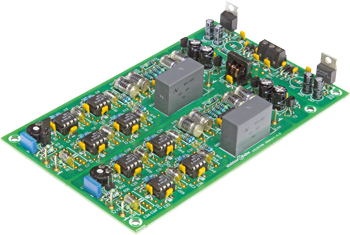 Vinyl is back with a vengeance among hi-fi enthusiasts. The sound of vinyl records is something very special and cannot be compared to the sound of digital audio sources. In this article we present a high-end phono preamplifier featuring four special opamps wired in parallel in each channel to achieve extremely low noise. We used this approach earlier in a design published back in 1982, with discrete transistors at that time.
Downloading of this magazine article is reserved for Elektor Members only.
Already a member? click
here
to log in.
Component List
Preamplifier board
Resistors
R1,R30 = 47kOhm, 1%, 0.6 W, metal film
R2,R3,R31,R32 = 10MOhm, 5%, 0.25W, carbon film
R4,R6,R7,R9,R10,R12,R13,R15,R27,R33,R35,R36,R38,R39,R41,R42,R44,R56 = 47Ohm, 1%, 0.5W, metal film
R5,R8,R11,R14,R34,R37,R40,R43 = 2.2kOhm, 1%, 0.6W, metal film
R16–R19,R45–R48 = 6.81kOhm, 1%, 0.6W, metal film
R20,R49 = 110Ohm, 1%, 0.6W, metal film
R21,R50 = 1.6kOhm, 1%, 0.6W, metal film
R22,R51 = 5.1kOhm, 1%, 0.6W, metal film
R23,R52 = 470Ohm, 1%, 0.6W, metal film
R24,R53 = 62kOhm, 1%, 0.6W, metal film
R25,R54 = 4.7kOhm, 1%, 0.6W, metal film
R26,R55 = 7.5kOhm, 1%, 0.6W, metal film
R28,R29,R57,R58 = 1kOhm, 1%, 0.6W, metal film
R59,R61 = 180Ohm, 1%, 0.6W, metal film
R60,R62 = 2.0kOhm, 1%, 0.6W, metal film
R63 = 10kOhm, 5%, 0.25W, carbon film
P1,P2 = 1MOhm, 20%, 0.15W trimpot, vertical mounting
Capacitors
C1',C26' = nor fitted, see text
C1,C26 = 100pF 160V, 2.5%, axial, polystyrene, max. 12.9 x 5mm
(match C1 and C26 to element in use)
C2,C27 = 220nF 100V, 10%, lead pitch 5 or 7.5mm
C3,C6,C9,C12,C28,C31,C34,C37 = 470pF 160V, 2,5%, axial, polystyrene, max. 12.9 x 5mm, lead pitch 5, 7.5, 10, or 14.6mm
C4,C5,C7,C8,C10,C11,C13,C14,C20,C21,C29,C30,C32,C33,C35,C36,C38,C39,C45,C46 = 100nF 50V, 10%, X7R, 0.2'' or 0.34'' lead pitch
C15–C18,C40–C43 = 22nF 63V, 1%, axial, polystyrene, max. 17 x 6,5mm, lead pitch 5, 7.5, 10, 14.6, or 19mm
C19,C44 = 2.1µF 420 V, 10%, polypropylene, lead pitch 5, 7.5, 10, 15, 22.5, or 27.5mm
C22,C24,C47,C49,C51,C52,C53,C56,C59,C61 = 100nF 50V, 10%, X7R, 0.2'' lead pitch
C23,C25,C48,C50 = 100µF 50 V, 20%, diam. max. 8mm, lead pitch 2.5 or 3.5mm
C54,C55,C57,C58 = 10µF/50V, 20%, diam. 6.3mm max., 0.1'' lead pitch
C60,C62 = 220µF 50V, 20%, 10mm diam. max., 0.2'' lead pitch
C63–C66 = 10nF 50V, 20%, Y5V, 0.2'' lead pitch
Inductor
L1 = SU9V-01100, common-mode-choke 2x10mH, 100mA
Semiconductors
D1,D2,D3,D4 = 1N4007, DO-41
LED1 = high-intensity LED, blue, 3mm, T-1
T1,T3 = BC337-25, TO-92 case
T2,T4 = BC327-25, TO-92 case
IC1..IC4,IC6..IC9 = LT1028CN8, DIP-8 case
IC5,IC10 = LM833NG, DIP-8 case
IC11 = LM317, TO-220 case
IC12 = LM337, TO220 case
Miscellaneous
K1–K4 = solder pin, 1.3mm diam.
K5 = 3-way PCB screw terminal, 0.2'' lead pitch
JP1,JP2 = 2-pin pinheader, 0.1'' pitch
JP1,JP2 = jumper for pinheader
Enclosure, Hammond type 1455N1602
2 pcs Neutrik NYS367-0 cinch socket for panel mounting, black
2 pcs Neutrik NYS367-2 cinch socket for panel mounting, red
PCB # 150616-1
or

Component List
Analog Power Supply
Capacitors
C1,C2 = 100nF 1kV, X1, polypropylene, 10, 12.5, or 15mm lead pitch
Inductor
L1 = B82724J2142N1 common-mode choke, 2x27mH, 1.4A
Miscellaneous
F1,F2,F3 = fuseholder for PCB mounting, 20x5mm, 500V, 10A
F1,F2,F3 = cap for fuseholder, 20x5mm
F1 = 100mAT (slow-blow) glass fuse, 20x5mm
F2,F3 = 160mAT (slow-blow) glass fuse, 20x5mm
K1 = 2-way PCB screw terminal block, 0.3'' pitch, 500V
K2 = 4-way (2x2) PCB screw terminal block, 0.2'' pitch
TR1 = 6VA power transformer, 2x115V primary, 2x18V/166mA secondary, e.g. Block FL6/18
JP1,JP2 = wire link, see text
PCB # 150616-2

Component List
Modular Supply
Resistors
R1 = 4.7kOhm, 5%, 0.25W
Capacitors
C1–C6 = 2.2µF 50V, 20%, ceramic Y5V, 0.2'' pitch
C10,C11 = 47µF 50V, 20%, 2.5mm pitch, diam. 6.3mm max.
C12,C13 = 100nF 50V, 10%, ceramic X7R, 0.2'' pitch
Inductors
L1 = 4.7µH, 3.05A, 80mOhm, 10%, radial, 5mm pitch, e.g. Epcos B82144B2472K000
L2 = 600µH, 2A, 2x50mOhm, common-mode choke, 17.5x14mm, e.g. Kemet SC-02-06G
Semiconductors
D1,D4,D5 = 1N4007
LED1 = LED, green, 3mm
MOD2 = JCE0612D24 XP Power (6W ±24V)
Miscellaneous
K2 = 2-way PCB screw terminal block, 0.2'' pitch
K4 = 3-way PCB screw terminal block, 0.2'' pitch
F1 = fuseholder for PCB mounting, 20x5mm, 500V/10A
F1 = cap for fuseholder, 20x5 mm
F1 = 1 AT (slow-blow) glass fuse, 20x5mm
2 wire links!
PCB #150464-1