In an earlier news item I wrote about the effort the Dutch put in repairing all sorts of electronics, even in Repair Cafes. Now, it seems the Americans are starting to repent their throwawayism too. Awesome!
It took about 11.5 tractor-trailer loads to clear out 175,000 to 225,000 pounds of electronics waste dropped off during an electronics recycling event organized a while ago at Carlisle Fairgrounds in Cumberland County, Pennsylvania, USA.
The event was the product of an agreement between the county and Illinois-based Vintage Tech Recyclers to collect, package, transport and recycle electronics for free. Items were collected and processed through the Kuusakoski recycling group.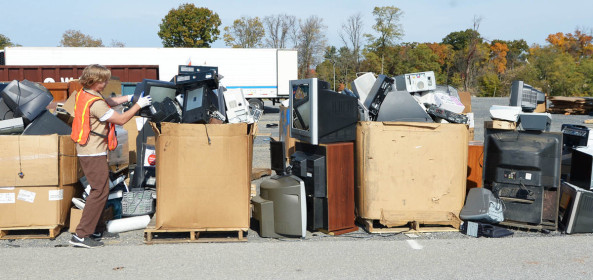 The photos of the heaps of e-rubbish I received from Vintage Tech show a dominance of enormous CRT TVs (some even in wooden cabinets) and Deskjet-ish printers which I am sure the owners were glad to get rid of.  More e-waste collection events will be staged by
Vintage Tech Recyclers
in 2016, one in the spring and one next fall. Good job!