Changing prospects for natural gas in the Eastern Mediterranean
Exploration in the east part of the Mediterranean Sea proved to be very successful. In the so called Levant Basin several huge resources have been found in different areas and therefore also belonging to various countries in this region. Although the final quantities still have to be determined there is enough for export to other surrounding and adjacent countries. Of course a smooth progress is requiring stability in a region known for its tensions. Dr. Sohbet Karbuz, Director of the Hydrocarbons Division at the Mediterranean Energy Observatory (OME) sheds his light on the situation.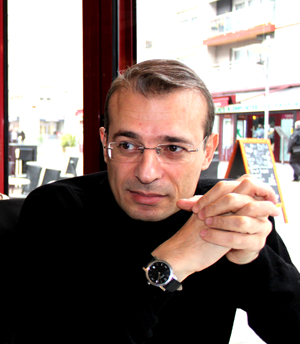 Dr. Sohbet Karbuz (c) Réseau Pro'Actif
In the aftermath of Turkey-Israel reconciliation, a question has emerged: will Eastern Mediterranean Basin gas resources create regional reconciliations or revive old conflicts?
Since 2010, we are witnessing a gas bonanza in the East Mediterranean. Israeli and Cypriote offshore discoveries offer new opportunities in terms of energy security and economic prosperity for both countries as well as for the region. This development is indeed wider than the Cyprus- Israel axes. When we consider emerging resources and their political impact, we should consider not only Israel and Cyprus, but also Egypt, Lebanon, and Syria's offshore opportunities. The wider vision offers tremendous opportunities that are limited by some technical, administrative, security, legal, and political problems. New regional reconciliations can only be possible if one develops relevant strategies to overcome those drawbacks.
How did this dilemma between energy resources and political conflicts begin? When did exploration activity begin in the Eastern Mediterranean Basin?
Exploration activities in the East Mediterranean have occupied a major part of the energy sector's agendas since 2009, but the offshore drilling history of the Eastern Mediterranean goes much farther back.
The offshore drilling history of the East Mediterranean dates to 1969, when Egypt discovered the Abu Qir gas field in shallow Mediterranean waters. Exploration moved to deeper water by the end of the 1990s. Between 1969 and 2012, some 2.2 trillion cubic meters of natural gas was discovered in the Mediterranean waters within the Egyptian exclusive economic zone. These discoveries pushed Israel to pursue future research. Since 1948 Israel drilled over 520 wells to find oil and gas resources, both onshore and offshore. Until 1999, the wells drilled either came out dry or encountered oil and gas, which were not considered commercial. Things changed with the discovery of Noa field in June 1999 and some others a few months later. The discovery of Mari-B field in 2000 further raised hopes.
How have these modest discoveries created a gas bonanza in the region, with it now considered one of the world's most promising hydrocarbon reserves?
In 1999 and 2000, four modest natural gas shallow depths west of the coastal town of Ashkelon in Israel (Noa, Or, Mari-B and Nir) and the Gaza Strip (Gaza Marine) encouraged littoral states to intensify exploration activities.
Moreover, two assessments (one covering the Nile Delta and Mediterranean sector of Egypt, and the other on the Levantine basin) by the United States Geological Survey (USGS) constituted a milestone in the Easter Mediterranean gas business.
In March 2010, the USGS released its assessment on undiscovered oil and gas resources in the Levant Basin Province.
These three discoveries opened Pandora's box
The report claimed there was potential for around 1.7 billion barrels of oil and 3,450 billion cubic meters of natural gas in the Levant Basin Province in the East Mediterranean, consisting mainly of offshore territories such as including the Gaza Strip, Israel, Lebanon, Syria, and Cyprus. These exploration efforts accelerated the acquisition of geophysical data throughout the entire East Mediterranean area, particularly in the Levant Basin.
Three large-scale offshore gas discoveries occurred in the Levant Basin consecutively in Tamar in 2009, Leviathan in 2010, and Cyprus-A in 2011. These three discoveries opened Pandora's box.
Further exploration and drilling efforts in the region and particularly in Lebanon is expected to reveal the existence of additional natural gas deposits (and perhaps oil).
Can we consider the Levant Basin, the core point of Eastern Mediterranean activities? If so what makes the Levant Basin so important?
Currently yes. The Levant basin is a deep marine basin encompassing an area of 83,000 square kilometers with water depths of up to 2,000 meters. The total discovered natural gas resources in the Levant Basin, as of April 2013, are over one trillion cubic meters (tcm). This estimate takes into account the recent upward and downward revisions in several fields. The monetary value of these resources at today's market prices (for instance if one takes the UK NBP price) is over $480 billion. According to Cypriot officials, 12 blocks in the southern Cyprus are expected to contain some 1.7 tcm of gas. Not all these blocks were covered in the USGS assessment. Moreover, Lebanese officials estimate about 700 billion cubic meters (bcm) of gas as well as some significant offshore oil resources.
What is the scale of these discoveries? Can these discoveries become game changers in Eurasian energy diplomacy?
Concerning the Eastern Mediterranean gas discoveries, we need a conservative optimism. The gas reserves exist, but the reliability of their volume raises doubts. Today, the scale of gas resources varies from one littoral country to other. Egypt has discovered a colossal 2.2 tcm of gas, while Israel's 900 bcm is very promising as well as Cyprus' 150 bcm, and 30 bcm in Gaza.
However, we have already seen failures in some other areas that had big expectations, such as Sarah, Myria, Ishai, and Elijah, #3 which came out dry. Smilarly, some large downward revisions in Tanin, Dolphin, and Shimshon fields, which in total went from 113 bcm to 48 bcm, fell short of recent upward revisions for Leviathan and Tamar. This is why I call for conservative optimism. We have to separate the Hype from the Hope in the region.
There are also virgin territories in the region, such as offshore Lebanon and Syria.
Concerning the Eastern Mediterranean gas discoveries, we need a conservative optimism
Syria has been keen to attract foreign companies for offshore hydrocarbon exploration activities in order to offset its declining oil output and to reduce gas imports. The country announced an offshore exploration licensing round for three blocks in March 2011 with a closing date of December 2011. However, the round is on hold, due to country's civil war. Lebanon launched its first offshore licensing round in February 2013. Now the bids submitting process is ongoing, with contracts awards expected for March 2014.
How do stakeholders plan to export this virgin gas to world energy markets? Will these reserves be able to find their way to international markets in a timely manner?
For now, Israel and Cyprus are the ones who could indeed export their gas in the future but neither state has any gas export infrastructure. Three export projects are under discussion: building pipelines, shipping in the form of liquefied natural gas (LNG), or some combination of both. Pipeline options considered are mainly offshore.
The least costly option is building an offshore pipeline to Turkey (either directly or indirectly through southern Cyprus and then northern Cyprus) and going from there onwards possibly to European gas market via a leg that would join TANAP and the Southern Gas Corridor if needed. Another option could be to connect to the Arab Gas Pipeline. This option, could in theory take in gas from Lebanon and Syria, if gas is discovered there. The third option is building a long pipeline to Greece from Greek Cyprus. Thereafter, part of the gas could be transported to Italy via Interconnector Greece Italy (Poseidon) and a smaller portion could be exported to Bulgaria via Interconnector Greece Bulgaria. That would be technically feasible, but costly.
For LNG, Israel's offshore security poses serious threats. For Israel, three LNG options could be mentioned. The most cost effective option in the short to mid-term is transmitting the gas to Egypt and making use of the spare capacities at Egypt's Damietta and Idku LNG plants. A second option is building an LNG plant at Vassilikos on the southern coast of Greek Cyprus, where the gas would be converted into LNG. In this case the gas from Leviathan and other nearby offshore discoveries would be brought to the plant by pipeline. The third LNG option is to take the gas to the Israeli coast and then send it by pipeline to Eilat in Israel and on to Jordan's Aqaba Special Economic Zone, where a LNG facility could be constructed. This is not an easy thing to do due mainly to space and ecological grounds. The most flexible option could be Floating LNG which for the moment carries a big price tag.
It appears evident from your considerations that East Mediterranean gas resources are abundant and several gas transport options are at stake. The East Mediterranean has the potential to become Europe's new gas supplier. Why don't projects go ahead? What hinders international investors? What are the threats for Eastern Mediterranean gas transit to Europe?
Although the export options we mentioned before are technically feasible, the costs involved, the complexity of negotiating the necessary deals and a number of political barriers all pose serious obstacles.
Though the recent reconciliation between Israel and Turkey promotes strengthening cooperation, some political barriers remain.
I should add that energy, regulatory and fiscal policies will shape future production, exports, and investments more than reserves
These include Israel's conflicts with its neighbors, Lebanon, Palestine and more recently Egypt, the ongoing dispute between Turkey, Greece, and Cyprus, over Cyprus' unity, and the Syrian crisis and its impact on Lebanon. In addition, littoral states, due to these conflicts, are reluctant to explore any possible solutions for maritime border issues. This brings security issues to the front and is one of the most important obstacles to the long term development of Eastern Mediterranean gas resources. I should add that energy, regulatory and fiscal policies will shape future production, exports, and investments more than reserves. In this context the decision of the Tzemach committee in Israel will be the key, at least for now.
What is the issue in demarcating maritime borders in the Mediterranean Sea?
On a juridical level, the dispute over the Mediterranean Basin's demarcation of maritime borders problems began in 1948, with the establishment of Israel. However, the diplomatic dispute between Israel and Lebanon has increased since the discovery of the Tamar field in 2009. In the absence of a common agreement by all littoral states, some bilateral agreements efforts have taken place in last the 10 years. In 2007, Lebanon and Cyprus signed a bilateral agreement delineating the Exclusive Economic Zones (EEZ) between them. While Greek Cyprus' parliament ratified the agreement, Lebanon's did not.
In 2010, Lebanon submitted a new boundary proposal to the UN. This proposal defined the coordinates of its southern boundary with Israel and its southwestern boundary with Greek Cyprus, which differed from the 2007 Cyprus-Lebanon agreement. In July 2011, Israel sent a letter to the UN identifying the maritime boundary between Israel and Lebanon. The Israeli line runs north of Lebanon's proposed line in 2010, hence overlapping with what is claimed by Lebanon.
Settling this issue will require negotiations between Cyprus, Lebanon, and Israel. While Greek Cyprus and Lebanon have shown some negotiation efforts, the lack of diplomatic relations and the state of struggle between Israel and Lebanon hinders any multilateral solution, at least for the moment .
A second issue in the demarcation of maritime boundaries is Turkey's disagreement with Greek Cyprus concerning overlapping claims in offshore areas located in the west and southeast of the island. Turkey claims maritime demarcation agreements signed by the Greek Cypriots with countries of the region are null and void for several reasons.
The first role is for politicians
First, Turkey does not recognize Greek Cyprus and hence its EEZ, proclaimed in 2004. Second, Turkey argues that the Greek Cypriot government does not represent the Turkish Cypriot population. Third, Turkey argues that Greek Cypriot unilateral drilling is hurting reunification negotiations. This is why Turkey and Northern Cyprus, i.e. the Turkish Republic of Northern Cyprus, which only Turkey recognizes oppose the drilling program in southern Cyprus. They propose the suspension of all activities or the setting up of a joint committee related to hydrocarbon reserves off the island until the reunification process of both communities is concluded.
If one resolves the political conflicts and maritime demarcation issues, what would be the impact of Eastern Mediterranean gas resources on European energy security? How long is the Mediterranean gas' path to Europe?
In my opinion, some 8-9 bcm of gas per year could potentially be exported from Israel after the mid - 2020s. Cyprus could easily export another 5 bcm. If all these exports go to the markets in Europe, then we are talking about 13-14 bcm per year.
However, in my opinion, this gas should be used to first develop ties in the region. If the East Mediterranean were a normal place, we could think of Israel selling gas first to Egypt in order to help ease the gas shortage there in the short term. Then we could think of selling gas to Gaza and Jordan. These small quantities would first solve the gas problem in the region. A further market for the East med gas is Turkey. In addition, still, substantial amounts of gas could be sold further to Europe. For Turkey and Europe, this could mean the diversification of both supply sources and routes.
In the frame of the southern energy corridor project, can Eastern Mediterranean gas compete with Azeri gas supply?
East Mediterranean gas would complement the southern corridor, especially when one looks at the southern corridor concept as one meant to bring new supplies from the Caspian and Middle East regions. Currently we are talking about 10 bcm of gas from the Caspian leg of the project. An equal amount could easily contribute to the southern corridor from the East Meditterranean in the next decade, hence making it even more relevant to European gas supply security.
Apparently, in the East Mediterranean political problems still have an important impact on the development of the energy sector. How can this wall of obstacles be broken down? How can energy play a facilitating role in enhancing cooperation in a politically and culturally fragmented region?
The first role is for politicians. They should end myopic policies. Politicians in the region must stop pursuing myopic policies without regard for their consequences. Likewise, multilateral dialogue is imperative. Otherwise confrontation will remain inevitable. I believe helping incentivize the building of joint exploitation and transport projects would help change factor in regional dynamics. In my opinion, the greatest common denominator, energy, has become the extension of politics by other means in the region.
Dr. Sohbet Karbuz is an engineer and an economist by education (BSc, MSc, PhD, PostDoc), a number cruncher by experience, an energy analyst by profession, and a military energy analyst by passion. He currently works at Observatoire Mediterraneen de l'Energie (an energy industry association) in Paris as director of its hydrocarbons division.
Before joining the OME in 2004, he was with the International Energy Agency in Paris, where he worked for as head of non-OECD energy statistics section and as administrator in the energy technology policy division.
The Observatoire Méditerranéen de l'Energie (OME) is the association of leading Mediterranean energy companies. The mission of OME is to promote the cooperation in the Mediterranean Basin, making energy an element of regional integration.
Olgu Okumus is finishing her PhD on "The Role of Turkey in EU Energy Security" at Sciences Po-CERI in Paris. She is also an affiliated lecturer in energy diplomacy at Collège Universitaire de Sciences Po, Paris.