Copenhagen's Revenge: Danish capital wants to be greener than green
In December last year, the eyes of the world were on Copenhagen, as host of the UN Climate Convention. Despite high hopes, "Copenhagen" did not become the successor to "Kyoto". The image of the Danish capital was tarnished. In an effort to regain its reputation as a "green role model", the Danish city is hosting World Climate Solutions 2010. Bo Asmus Kjeldgaard, Environmental Mayor, is convinced that people understand that it was not his city, but the Danish government, that was to blame for the failure of the UN Conference. Indeed, the left-wing local government of Copenhagen has ambitious plans to make the city CO2-neutral by 2025 – whatever the national government may say.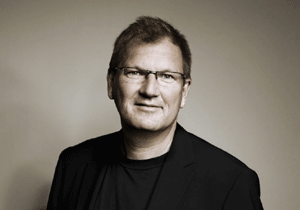 Bo Asmus Kjeldgaard, Environmental Mayor of Copenhagen - photo: Soren Malmose
The venue is the same as last year when "COP-15" – the UN climate conference – took place and the ambitions are just as high as they were then. Copenhagen and Denmark will become the "Green Silicon Valley"! That, at least, is what the organisers of World Climate Solutions 2010 claim. Unlike the UN conference, this international conference, which takes place on 29 and 30 September, is supposed to provide realistic and practical solutions to the climate change problem. Among the defenders of Copenhagen as an "international green role model" is Bo Asmus Kjeldgaard, who is the Danish capital's "Mayor for the technical and environmental department" – one of the six Mayors that Copenhagen has in addition to the Lord Mayor. Kjeldgaard, a member of the Socialist People's Party, believes his city should follow its own energy policy – build its own power plants if necessary – if the energy policy of the national government or of the EU does not deliver adequate results. He spoke to EER from his town hall office.
Do you think the poor result of the COP-15 event had a negative impact on the image of the City of Copenhagen?
No, I don't think so. The people who came to Copenhagen and saw the city, blame the Danish Prime Minister for the unsuccessful outcome of COP-15. He did a bad job.
What is the idea behind this year's conference, just nine month after the unsuccessful COP-15? It looks like a sort of revenge.
The idea of this conference is to inspire the rest of the world, the political leaders and foreign companies, to be more active in CO2 reduction. We think that Copenhagen has a lot to offer. We have strongly improved the conditions for biogas and have made huge investments in public transport. We have established a comprehensive combined heat and power system for the whole city. Households are obliged to get connected to this. And we have just released a budget with big investments in
'We would like to establish a worldwide club for cities and councils that want to be CO2 neutral. However, so far we are the only member'
hydrogen and fuel services. It is my impression that the outside world knows that the failure of COP-15 (the UN climate change conference, ed.) was a failure of the right-wing Danish government. They realize that the City of Copenhagen was not to blame. We are in opposition to this unambitious government. People who visited Copenhagen during COP-15 were impressed by what they saw in the city and the solutions we have implemented. So, I think Copenhagen is still a good brand name. The fact that more than 1,000 visitors are coming to this conference and show an interest in our city is a good sign.
You distinguish between the State of Denmark and the City of Copenhagen?
Yes, because the Danish government consists of conservative and liberal parties, whilst Copenhagen is governed by my party, the Socialist People's Party, and the Social Democrats. We hope to have a general election soon, because we are optimistic we are able to replace this government. I think the delegates and visitors to the COP-15 meeting soon learned how to distinguish between national policy and that of the City of Copenhagen.
In Copenhagen you have seven Mayors from five different parties. So who is in charge in the city council?
The Social Democrats and the Socialist People's Party have a majority and we are working very well together. We have common goals regarding the climate and green growth. We are working for a close partnership between the universities, the private sector and the municipal government. We are looking for new solutions with regard to wind power, transportation, the use of hydrogen, and other matters. And we are also working together with other cities.
Copenhagen's Lord Mayor is quoted as saying that "we are already an international role model". Can you elaborate on this?
Of course we are a role model already. At COP-15 everybody could see that we have a huge amount of bikes instead of private cars, we have a very good energy sector with windmills outside the cities, we
'Another problem is the EU-directive for the liberalisation of the electricity market. There is now a lot of private money involved. I think we should have more control over energy production'
have an extended combined heat and power system and we now have implemented new policies for
green living. Furthermore we can swim in the harbour nowadays, since we cleaned it up. And we have decided that we want to be the first CO2-neutral capital in the world by 2025. Actually, we would like to establish a worldwide club for cities and councils that want to be CO2 neutral. However, so far we are the only member.
Is Copenhagen independent of coal-fired power plants for its power supply yet?
Not completely. However we are in discussion about this with our big electricity supplier Dong. Another problem is the EU-directive for the liberalisation of the electricity market. In this business there is now a lot of private money involved. I think we should have more control over energy production. If we get a new parliament and government with our parties in the lead, we will change the legislation for energy production in order to get better control of the electricity market. But until then we demand from our heat producer Dong that it supplies our houses with heat that does not come from coal-fired plants. If Dong is unable to comply, we will build our own power plants.
Up to now, Copenhagen was not even regarded as a serious contender for the EU-award "Green Capital of Europe". This title went to Stockholm in 2010 and will go to Hamburg next year. In what way is Copenhagen lagging behind these two cities?
I don't think that we are lagging behind. But other cities are doing an outstanding job as well and we are happy to share the spotlights. Since climate change doesn't respect any boundaries and our main task is to tackle this problem, we welcome a positive and healthy competition. Competition is not always a good thing, but in this case it is very good. If we can compete to become the best city on climate issues, then we do something good for the world.
Copenhagen is also not among the contenders for 2012 and 2013.
We will do all we can to become the first CO2 neutral capital in the world in 2025. The most important thing is not branding or image. The most important thing is that we are willing to do very concrete work
'We have just decided to reserve 500 parking slots exclusively for electric cars'
to achieve our CO2 reduction. We have a list of over 50 projects and have completed 34 of them by now. Next year we will produce a new plan for the period until 2025. For me as a Mayor it is important to make clear that this is not hot air, this is concrete action. And when we have done it, we want allow ourselves to be proud of it. Then we would like to offer our experiences and projects to others. The most important point however is that we are moving in the right direction, and fast.
You mention a plan with about 50 projects. Which are the most important ones and give the best result?
Even though they are very different, a very important one is what I call an "intelligent" energy system. This is not just one project, but it is something that will make the different parts in the system fit together and will make the best use of the electricity production.
Will Copenhagen introduce a congestion charge?
Yes, we will. I have worked on that for more than 25 years. My party first proposed a congestion charge in the City Council in 1983. At that time we were very much alone. Now we have a majority for this in the Council, but the government will not allow it. We are in favour, because it is the only way to reduce car traffic and get people to move to public transport.
Do you have a timetable for this?
As soon as we get a new government that will make this possible, we will do it in Copenhagen.
Copenhagen is cooperating with the electric car company Better Place. However, this company has had to scale back its original ambitions in Denmark. (Better Place had a goal of putting half a million electric cars in operation in Denmark by 2020, but this target has recently been reduced to between 20,000 and 100,000. Ed.) How do you see the future of this project in Denmark?
I think the company running this project has been a little too optimistic. It is still running fast, but not as fast as originally expected. But we in Copenhagen try to push the development. For this reason we have just decided to reserve 500 parking slots exclusively for electric cars. That is quite a lot compared to the total demand.
What do you expect from the report of the government's Climate Commission which will be presented at the World Climate Solution conference?
We have no idea and are very curious. I think the government has been very slow and not ambitious. Of course I criticize that. We have an organization of municipalities who are working on a much more ambitious plan. And it is too bad that whilst England and Germany try to get the EU to raise its commitment from a 20% CO2-reduction in 2020 to 30%, the Danish government is not supporting them.