The radical transformation of an energy company
The Danish state-owned energy company Dong Energy is transforming itself from a primarily fossil-fuel dominated company to a renewable energy company. This radical shift must take place in about 30 years. 'It may sound easy, but it's actually quite a big step', says CEO Anders Eldrup in an interview with EER. 'We are turning into a totally different company from what we are today. I may be wrong but I have not seen any other company with such aggressive ambitions as we have.'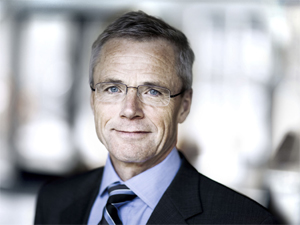 Who is Anders Eldrup?
Anders Eldrup (born 1948) has been the Chief Executive Officer of Dong Energy Energy AS since 2001 and serves as President and Member of the Executive Board. Prior to joining Dong Energy, he served for ten years as Permanent Secretary of the Danish Ministry of Finance. His career at the Ministry included positions as personal secretary to the Minister of Finance, department head, and division chief. He also serves as Chairman of the Copenhagen Cleantech Cluster and Deputy Chairman of Fonden Lindoe Offshore Renewables Center, the Center for Formidling af Naturvidenskab og Moderne Teknologi and Rockwool Fonde. He was educated at the University of Aarhus where he received a master's degree in political science in 1972.
Two years ago the world still looked very different for Dong Energy. The company, the product of a merger of a number of Danish utilities, was about to be privatized through an IPO. It was also on the point of joining the consolidation race sweeping through the European energy sector by buying one of the large Dutch utilities that were then for sale. But the financial crisis put the idea of an IPO on the shelf and in the Netherlands Dong Energy was outbid by Vattenfall and RWE.
Eldrup, who had become the head of the company in 2001 after a career at the Danish Ministry of Finance, decided to change course: to turn Dong Energy into a company that, as he puts it, 'meets the requirements of today'. For historical reasons, says Eldrup, Dong Energy's production is still 85% based on coal and 15% renewables. 'In 2040, we want to turn that around. By then 85% of our production must be CO2-neutral.'
The first steps of this process are already being taken. In particular, Dong Energy is closing coal-fired power stations and building new offshore wind farms. By 2020, the Danish company aims to have 815 MW wind power in operation, 961 MW wind power under construction, and a project pipeline that will lead to a total wind power capacity of some 3,000 MW. In addition, in the coming decade it will construct 3 gas-fired power stations (in Norway, the UK and the Netherlands), convert some of its existing coal-fired power stations to be fired by biomass and close other coal units. This should lead to a 50% CO2 emission reduction by 2020. EER asked Eldrup to explain the why and how of his company's new strategy.
Why have you decided to go through this radical change?
First of all because it is the right thing to. But there are added advantages to shifting to renewable energy. It has a positive effect on security of supply. We become less dependent on external suppliers. And we are creating jobs and economic growth domestically. So it is good for the environment, good for the economy and good for our security.
Is your strategy made possible by the fact that you are a state-owned company?
I don't think so. We run a business like everybody else. We like to do things that are right but we also want to make money. The government does not interfere in our business.

What is the business case for offshore wind? It requires a lot of subsidies.I won't deny that we can only make this transformation thanks to subsidies. If there were no subsidies we would not be able to do it. Clean technologies cannot yet compete in the marketplace on their own
strength. But that is how the game is being played. A lot of companies do this. We simply make use of the rules that exist in the market. We are now world market leader in offshore wind. We are spending 50% of our capital investment on this. We have been building half the offshore turbines that exist in the world today, mainly in the UK, because there the economic environment is the best.
But how sustainable is this business model if you consider that subsidies can be cut?
Well, governments might change the rules of the game for future investments. I cannot rule that out. But I would be very surprised if they changed the rules on which companies have based their current investments. That would be very unusual. Actually I have been discussing this with the British government and I got a letter from Gordon Brown [then prime minister of the UK, editor] stating that the subsidies for offshore wind turbines had been allocated for 20 years.
Did you ask him for guarantees?
I wrote a letter to him and he answered it. But he has also stated this publicly. Of course there is a new government now, but all three parties said during the election campaign that they supported offshore wind. Budgets are constrained, but I don't see a movement towards changing the rules.
Suppose the subsidies do get cut. Could you then still realise your wind power ambitions?
I think maybe you can make a business case for onshore wind without subsidies. I would not exclude that. For offshore wind it is not possible in the near or mid-term future. It is quite complicated to do these offshore constructions. The reason we made it part of our business is that politicians want more wind. At the same time we know that in our part of the world the population density is high. We know people like wind, but not in their backyard. So you would not get the permissions you need if you only stay onshore. That's why we said, OK, if governments want wind, then we must do it offshore. And then we
We are the most experienced offshore wind producer because we have made the most mistakes!
must improve our skills. As a market leader we have taken a number of unique steps to improve the business model. Last year we signed the world's largest purchasing agreement for turbines – a framework deal with Siemens for the supply of 500 of their large 3.6 MW turbines. In this way we give a kickstart to the industrialisation of the wind power sector. Siemens can start off a conveyor belt production, rather than on project by project basis. This will bring the costs down. We do not yet know where we will deploy all the turbines, but setting out this planning horizon is an important step. Another step we took is that we bought a specialist vessel company, A2SEA, which is market leader in the installation of foundations and turbines offshore. Our supervisory board was a bit surprised when I proposed this. What does an energy company want with a vessel company, they asked? But it is important at this stage to keep the logistics of the whole process in our own hands. You must control that if you want to improve efficiency. And we are taking other steps as well to bring costs down. Neverheless for years to come we will need subsidies.
What are the production costs for offshore wind at the moment? Some sources talk about 17 eurocents per kWh. That is about three times wholesale prices.
I would say that production costs for offshore wind are roughly double compared to that of traditional sources. But if we can make offshore wind more efficient, and I am sure we can, and if a price is put on CO2, we will be able to narrow the gap.
Do you have a target for production costs that you want to reach?
We do, but I won't mention a number.
Politicians might like to know what you are aiming at.
(laughs) I am sure they do.
What has your experience been so far with Horns Rev? [the world's first offshore wind farm built by Dong Energy off the Danish coast, editor]
There is Horns Rev 1 and Horns Rev 2. With the first Horns Rev, we had quite a number of challenges. But we have learned from those. We are the most experienced offshore wind producer because we have made the most mistakes! In December last year Horns Rev 2 went into operation. This is the biggest offshore wind farm in the world to date, with a capacity of 209 MW. This is running quite well. In the Irish Sea we are now constructing one of 400 MW and together with Eon and Masdar we are building the London Array, which will be 630 MW. But actually, we are going much further than just investing in wind power. We are also involved in the introduction of electric cars in Denmark, for example.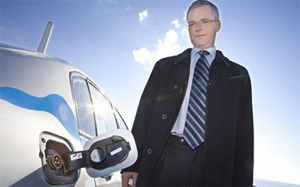 Eldrup: If we are successful – and we don't know this yet – we might be able change the transport sector drastically.

What makes you interested in electric cars?
You know that when wind power reaches a certain level, it will make the electricity system unstable. Electric cars can counter this by providing large-scale storage of electricity. So we have entered into an agreement with the company Better Place. They have set up an organisation in Denmark to introduce electric cars in a big way next year. [See box below, editor] Our role is primarily to develop intelligent systems for the charging of the batteries. In a sense we provide the intelligence of the electricity infrastructure that is behind the cars. If we are successful – and we don't know this yet – we might be able change the transport sector drastically. So this is another example of how we adapt our company to the new requirements. It illustrates that to become the energy company of the future you have to think in ways that a few years back were far out.
What else are you doing to turn your company around?
We are taking many steps. Last year, we stopped the development of four big coal-fired power plants that had been planned, two in the UK and two in Denmark. We decided we will not build any new coal-fired power anymore. On top of that we closed 25% of our coal-fired capacity in Denmark. And we are in the process of converting the remaining coal-fired power into biomass, although we have not taken a final investment decision on that. Then to give you another example, in November last year we set up one of the world's first and largest demonstration plants for second-generation bio-ethanol in Denmark. To produce bio-ethanol out of corn, as they do in the US, is an ethical problem. When people are starving, you do not want to use corn to produce fuel. We don't use corn or sugar, but straw, which is a waste product. But it is a much more complicated process. The energy is in there, just as it is in corn or sugar, but it is much more difficult to get it out. We have found a way to get there, which is what we are developing now. If you hear all the things that we do, you might think, what a strange company, but it all fits in with our strategy.

When you are closing your coal-fired power stations, does this mean you don't believe in carbon capture and storage (CCS)?
I believe in CCS, it's important globally, but as we are closing down our coal-fired stock, for us it is not as relevant anymore as it was a few years back. We have a demonstration plant that's been running for 3 or 4 years. Our experience shows carbon capture can be done, but the loss of energy efficiency is quite high.

In general what investment conditions do you need to make a successful transition to become a new energy company?We were disappointed by the outcome of the Copenhagen Summit. But the climate problem has not gone away. The warming of the earth is continuing. It has now probably become impossible to limit the warming to 2 degrees Celsisus, so the problem will only become more acute. And what I see is that there actually is a big push towards green technology, with or without climate deal. Look at what is going on in China. They are really pushing for green technology there. For Europe it would be very dangerous if we lean back. The Chinese are not leaning back even if they did not sign any agreement.
Did you support the recent attempt by your compatriot Connie Hedegaard, the European Commissioner for Climate Action, to raise CO2 emission reduction targets in the EU from 20% to 30%?
Yes, I did. But the most important thing is not to set amibitious targets. It is to create mechanisms that will deliver the targets. In one way or the other – whether it is through emissions trading or some other mechanism – we must have a higher price for carbon. That way, the invisible hand of the market can do its work to develop the new technologies and to turn our economy around.
Do you think that the second phase of the ETS (European Emission Trading Scheme) can deliver the goods?
Well, I was in Brussels recently discussing this with Connie Hedegaard and some other businessmen and I think they are very focused on this in the Commission. What will come out of it I can't say, but something has to be decided about what will happen after 2012. We know the rules until that time, but not beyond that.
Are you still interested in acquisitions elsewhere in Europe?
That does not have our priority anymore. We are now focusing on organic growth. A number of consolidations have taken place in Europe, but most of the game is over now. That's one reason. But it also has to do with our vision, our new profile. We don't want to buy any company with a very different profile. Most of the existing companies have very different profiles from what we are aiming at. I may be wrong, but in fact I have not seen any other company with such aggressive renewable energy ambitions as we have.
Dong Energy goes for '100,000 electric cars per year' in Denmark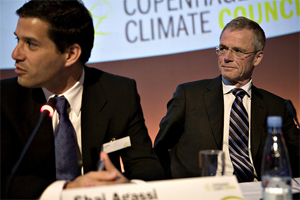 Israeli entrepeneur Shai Agassi (l) and DONG Energy CEO Anders Eldrup (r) at a presentation in Copenhagen.

Dong Energy has entered into a joint-venture with US electric car company Better Place, founded by the famous Israeli entrepeneur Shai Agassi, and French car company Renault. The partners will be introducing electric cars in Denmark on a sizable scale starting in the autumn of next year. Their target is to sell 100,000 electric cars per year after the start-up phase.

The concept of Better Place is to build switching stations, where drivers can switch batteries in a very short time, in the same way that they now go to a petrol station to fill up the tank. Current batteries operate for about 160 kilometres. The switching stations make it possible to extend this range.

Drivers can also opt to recharge the battery at home. To prevent the overloading of the electrical system – which might happen if, for example, a great many drivers start charging their batteries at the end of the afternoon when the load is already at its highest – Dong Energy and Better Place are developing intelligent systems that automatically prevent overloading. 'Developing this software is crucial', says Dong Energy CEO Anders Eldrup. But, he adds, 'the Bettre Place people are very good at this.' Agassi, the head of Better Place, has a background in IT. He used to work for software giant SAP.

Better Place is also developing its concept in Israel and Japan. In Tokyo the first switching station was opened recently. Denmark and Israel will probably follow next year. 'The main bottleneck at this moment is the production of the cars at Renault', says Eldrup.

He says both the purchase and the use of the electric cars will be cheaper than of petrol-based cars in Denmark. 'But this is because we have gotten a special tax relief from the government. I don't expect that this will last forever.' The partners have not set definite prices yet for the cars.

For more information on the Better Place concept, see the article we published on 1 October last year by Hans Verwijs, "Batteries not included", and the interview with Shai Agassi, 'Electric cars are the best option'.